Timber Shortage Could Frustrate Self Builders and Home Improvers
A timber shortage has brought price hikes and delays, and suppliers are struggling to keep up with demand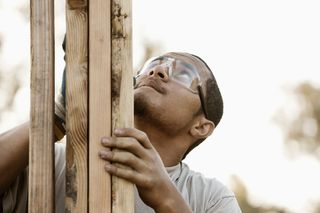 (Image credit: Getty Images)
A timber shortage which has frustrated homebuilders all year is getting worse, as demand shoots up amid an increase in DIY and construction projects. 
Timber supplies have been low since the first lockdown in March 2020, and continue to be one of the worst-affected materials amid a construction materials shortage which is expected to continue into 2022. 
To make matters worse, timber prices have steadily risen over the last year as builders struggle to access supplies. Imported plywood costs increased by 29.8% in May, according to the most recent statistics produced by the Department for Business, Energy and Industrial Strategy (BEIS).
The Timber Trade Federation (TTF) said this week that suppliers are "working around the clock" but are struggling to keep up with demand - which is bad news for self builders, renovators and home improvers. 
How Could the Timber Shortage Affect You?
It could be significant to those working on self build projects who are building with timber frame, potentially affecting lead times and leading to higher material costs. 
Renovators could too be affected by price increases, while some DIY projects may be impacted due to the pressure that some building merchants are currently under.
Noble Francis, economics director of the Construction Products Association, says one way of mitigating supply issues - if you're working with contractors - is to keep open lines of communication regarding the cost and availability of timber products. 
"Secondly, plan and order well in advance for future projects months down the line, so you can purchase the key materials which have extended lead times and rising costs," he added. 
Why is There a Timber Shortage?
The high demand for wood and wood products has persisted since the DIY boom last year, a consequence of homeowners spending more time at home due to the pandemic. 
But the reasons for timber in particular being impacted are wide-ranging. The UK imports 80% of its timber, and Sweden, which supplies almost half of the structural wood used in the UK, has recorded its lowest stock levels for 20 years.
Supplies are down, and supply chains are strained. There was a slowdown in production of materials from some factories in the EU in 2020, while there is now a shortage of lorry drivers in the UK, as reported this summer by the Construction Leadership Council, with building sites struggling to receive deliveries.
Additionally, leaving the EU has lengthened the supply lines for a number of core supplies from Europe. The TTF said in May that Brexit-related complications have squeezed UK timber stocks, as 80% of the softwood used in building comes from Europe, and 90% of the softwood used for new build homes comes from the continent.
Which Timber Materials Are Affected?
Supplies of OSB, MDF, P5 chipboard, veneers and solid wood have all been affected throughout the year.
The TTF said earlier this year: "Structural plywoods are also in globally tight supply and likely to remain so, as there is little extra manufacturing capacity that can quickly open up the supply pipeline. I-joists and metal web joists are both made using structural timber and panel products, so supplies there too may remain constrained.' 
Wilf Meynell, an architect and project manager at Studio Bark, told the BBC that the price of birch plywood has doubled this year, while BEIS says the cost of sawn or planed wood went up by 3% between April-May.
Jack is News Editor of Homebuilding & Renovating and strives to break the most relevant and beneficial stories for self builders and renovators. Having bought his first home in 2013, he and his wife have renovated almost every room and recently finished a garden renovation. Jack reports on all of the latest news that could affect your project.
Homebuilding & Renovating Newsletter
Get the latest news, reviews and product advice straight to your inbox.
Thank you for signing up to Homebuilding. You will receive a verification email shortly.
There was a problem. Please refresh the page and try again.