The UK Area With the Most Planning Breaches Has Been Revealed
By Jack Woodfield published
Breaking planning permission rules can lead to fines and even jail time, as the UK areas most guilty of planning breaches are revealed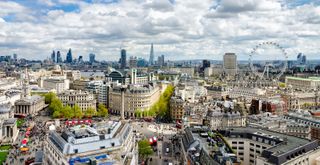 (Image credit: Getty Images)
The City of Westminster has the most planning breach complaints of all areas in the UK, with 10,094 between 2016-2020, according to data from GetAgent.
JOIN THE PLANNING HUB
The Planning Hub is an online resource that will help you understand how to get to grips with complex planning rules. Join today for access to easy-to-read guides which will provide you with key information to help you secure planning permission.
Obtaining planning permission is often a necessity to complete building work such as a self build, and while there are things you can do without planning permission, such as using Permitted Development rights to make certain changes to your home, cutting corners can lead to hefty fines and even jail time.
The City of Westminster, which encompasses the Houses of Parliament and most of London's West End, is the UK's worst area for breaching planning permission.
Of the 10,094 complaints received by the City of Westminster local authority since 2016, it served over 4,500 enforcement notices to parties breaching planning permission, which is also more than any other area.
Birmingham was the second-worst area with 7,991 breaches, while Hammersmith and Fulham made up the top three with 6,887.
Planning Ahead
GetAgent.co.uk obtained their data through 20 local authorities in the UK, and highlighted the importance of obtaining planning permission before you begin your project.
Applying for planning permission can be a lengthy process, depending on the building work you're planning to undertake, but it is essential to do the application process right. Failure to do so could lead to you receiving an enforcement notice which could force you to undo all your construction work, and you could also be prosecuted for certain breaches.
Colby Short, founder and CEO of GetAgent.co.uk said: "A planning breach in itself is not illegal, however, if the breach involved a previously rejected development the council can issue an enforcement notice, which requires you to reference any changes. It is illegal to disobey an enforcement notice unless it is successfully appealed against. A person guilty is liable to an unlimited fine.
"The planning permission application can also help reveal any unexpected issues early on, like building restrictions or conditions in your contract."
Britain's top 10 areas with the most planning breaches (2016-2020)
1. City of Westminster, 10,094
2. Birmingham, 7,991
3. Hammersmith and Fulham, 6,887
4. Ealing, 6,092
5. Camden, 6,062
6. Newham, 5,252
7. Havering, 4,567
8. Bromley, 3,938
9. Leicester, 3,635
10. Blackpool, 3,169
Jack is News Editor for Homebuilding & Renovating, and strives to break the most relevant and beneficial stories for self builders, extenders and renovators, including the latest news on the construction materials shortage and planning reforms. Having bought his first home in 2013, he and his wife have renovated almost every room and recently finished a garden renovation.
Homebuilding & Renovating Newsletter
Get the latest news, reviews and product advice straight to your inbox.
Thank you for signing up to Homebuilding. You will receive a verification email shortly.
There was a problem. Please refresh the page and try again.