Stamp Duty: Petition Launched to Backdate Refunds During Lockdown
Campaigners say the stamp duty holiday announced last week should be backdated for all homemovers between March and July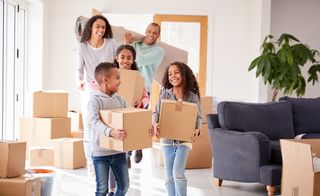 (Image credit: Getty Images)
Thousands of people have signed a petition to try and abolish stamp duty for the entirety of the Covid-19 pandemic. 
The petition is calling for stamp duty to be refunded for all transactions made during lockdown (between March and July), and for all stamp duty, irrespective of house prices, to be completely dropped until the coronavirus crisis is over. 
The petition follows chancellor Rishi Sunak's announcement last week that a stamp duty holiday would come into effect immediately, exempting the first £500,000 of all property sales from the tax until 31st March 2021.
The move is undoubtedly welcome news for aspiring homeowners looking to enter the housing market, and was one of the government's leading measures in the Summer Statement designed to stimulate economic growth.
(MORE: Insulation News: Green Homes Scheme to Begin in September, Chancellor Confirms)
However, the announcement has not accounted for new homeowners who bought a house, took out a mortgage, and moved during lockdown. 
At the time of writing, over 6,000 people have signed the petition. It will need 10,000 signatures in order to receive an official government response, and 100,000 to trigger a debate in parliament. 
Stamp Duty: Government Urged to Respond
It's understandable that many homebuyers who finalised their purchase between March and 8 July will feel aggrieved by the start date of the stamp duty holiday, especially as the chancellor confirmed last week that it will save the average house buyer £4,500.
The government has also suggested that the £500,000 threshold will mean that around nine out of 10 people buying a home before 31st March will pay no stamp duty at all. 
Laura Crombie, brand development editor of Homebuilding & Renovating, finalised the purchase of her forever home during lockdown, but missed out on the stamp duty holiday due to her completion date.
In a letter to Savid Javid MP, she wrote: "Although we were ready to proceed with our sale and purchase back in March, we heeded government advice and waited until it was deemed safe to move. It feels like a kick in the teeth to have been encouraged to move and pay the full amount of stamp duty, when this change was in the pipeline. 
"It's particularly galling that we have 14 days from completion to pay stamp duty, which takes us well past the 8th, when the changes were made, but that we still have to pay the full amount."
Sarah Ryan, head of conveyancing at law firm Simpson Millar, agrees that backdating the stamp duty holiday would be a welcome measure for those who preserved with their house move during an exceptionally challenging period.
"We of course welcome the plans to freeze the stamp duty costs. However, there is no denying that for some, in particular those individuals, couples and families who have managed to complete the purchase of their home either during lockdown, or in the immediate aftermath, this will come as a bitter blow," said Ryan. 
"We would urge the government to make the scheme retrospective so that those individuals can also benefit from the cost savings."
Homebuilding & Renovating Newsletter
Get the latest news, expert advice and product inspiration straight to your inbox.
Thank you for signing up to Homebuilding. You will receive a verification email shortly.
There was a problem. Please refresh the page and try again.