Right to Repair: New Rules Become Law to Extend Lifespan of Appliances
By Jack Woodfield published
The Right to Repair rules could make appliances last longer and save homeowners money on white goods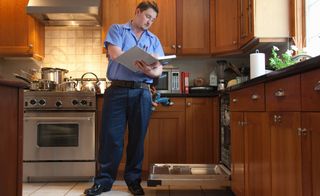 (Image credit: Getty Images)
The Right to Repair rules became law in the UK on Thursday meaning manufacturers are now legally obliged to make spare parts for certain products available to customers.
The Right to Repair should bring an end to frustrations we all share when appliances such as fridges, dishwashers and TVs no longer work. In theory, it will also make appliances last longer and be cheaper to run as a result.
The aim of the rules is to extend the lifespan of products by up to 10 years, the government says.
(MORE: The best integrated dishwashers)
What is the Right to Repair?
The new rules were first announced earlier this year when the government confirmed that it planned to tackle "built-in obsolescence", where manufacturers deliberately build a short lifespan into an appliance, leading to unnecessary and costly replacements for consumers.
To protect consumers from buying a whole new appliance, the Right to Repair necessitates that manufacturers must now sell replacement parts which can extend the product's lifespan by up to 10 years - irrespective of whether they are still selling the complete item in their range.
The rules also go towards tackling the 1.5m tonnes of electrical waste generated in the UK every year, and will contribute to reducing carbon emissions overall in the push towards net zero emissions.
Anne Marie Trevelyan, minister of state for energy, said on Thursday: "The tougher standards coming in today will ensure more of our electrical goods can be fixed rather than have to be thrown away when they stop working, putting more money back in the pockets of consumers, as we build back greener."
Which Items do the Rules Apply to?
These are the items the new rules apply to in full:
Refrigerators
Dishwashers
Washing machines
Light sources and separate control gears
Electronic displays (including televisions)
Electric motors
External power suppliers
Welding equipment
Power transformers
Unfortunately, laptops and smartphones are not covered, and neither are cookers, hobs, tumble dryers or microwaves.
What Does the Right to Repair Mean for Consumers?
The rules are great news for those of us who lack the technical know-how to replace broken appliances, and end up journeying to a shop to get it fixed.
Moreover, the government estimates that the higher energy efficiency standards will save consumers an average of £75 a year on bills over their lifetimes.
However, an important caveat is that you'll still need to be within warranty in order to get the repairs free of charge. If not, you will at least still be guaranteed access to a replacement part but you'll probably have to pay for it.
This though is significant progress as fixing a broken part, even with repair fees, could work out cheaper than buying an entirely new appliance.
Reaction
Adam French, consumer rights spokesman for Which? said: "Too often electrical items end up in landfill because they are either too costly or difficult to fix, so these new rules requiring manufacturers to make spare parts more widely available are a step in the right direction and should ensure products last longer and help reduce electrical waste."
But Libby Peake, head of resource policy at Green Alliance, warned that it is not accurate to say the new rules guarantee a legal right to repair, nor affordable replacements. "The government hasn't given consumers any such right, as the spare parts and repairability criteria are only directed at professional repairers, not at the people who own products," she said.
"There is also no guarantee that spare parts and repair services will be affordable, so considerable barriers remain to making this the easiest, default option."
Jack has worked in journalism for 11 years and is the News Editor for Homebuilding & Renovating, a role he has had since 2019. He strives to break the most relevant and beneficial stories for self builders, extenders and renovators, including the latest news on the construction materials shortage and hydrogen heating. In 2021 he appeared on BBC's The World at One to discuss the government's planning reforms.
He enjoys testing new tools and gadgets, and having bought his first home in 2013, he has renovated every room and recently finished a garden renovation.
Homebuilding & Renovating Newsletter
Get the latest news, reviews and product advice straight to your inbox.
Thank you for signing up to Homebuilding. You will receive a verification email shortly.
There was a problem. Please refresh the page and try again.