Paint Recycling Needs to be Made Easier For Homeowners, Experts Warn
By Jack Woodfield published
Paint recycling is important for the environment, yet only 27% of homeowners say they have recycled paint they didn't need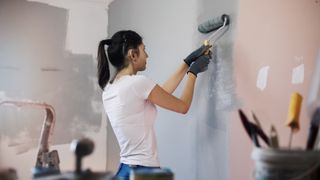 (Image credit: Getty Images)
New research has warned that paint recycling needs to be made easier for consumers, and that not reusing paint poses environmental issues.
The Royal Society of Chemistry (RSC) has revealed that the UK's paint stash totals over 50 million litres, with 73% of homeowners admitting to setting aside unused or partially used decorating paint.
This is concerning, the RSC says, because paint contains hidden chemicals called polymers in liquid formulations (PLFs), often made from fossil sources which are important ingredients needed to help paint stick, for example, when painting a wall. PLFs contain huge quantities of specialist ingredients created using non-renewable resources, yet around 98% of the UK's waste paint is either burnt or sent to landfill.
Professor Tom Welton, President of the RSC, said: "All this paint contains huge quantities of valuable PLFs [and] it's unsustainable to waste such a commodity. We're risking environmental damage through not reusing and recycling, so we're urging consumers to write to their MPs to help highlight this issue.
"We have found that most households have tins of paint languishing in cupboards, sheds and garages – and that while consumers want to be able to recycle, they face a postcode lottery, making it unnecessarily difficult to do the right thing."
The Society has convened a task force which is calling on the government to introduce a national paint reuse and recycling strategy, such as the British Coating Federation's PaintCare (opens in new tab) programme, to make it easier for consumers to recycle paint wherever they live.
Paint Recycling Isn't Widely Done
The RSC research also revealed that 47% of UK households redecorated in the last year. And of the 73% storing unfinished tins of paint, 30% said they hadn't recycled it because it seemed a waste to throw it away, while 73% said they were storing it in case it was needed for new projects such as painting a ceiling, or touch-ups or repainting.
Significantly, only a quarter (27%) of those surveyed said they had recycled paint they no longer needed. 67% said they didn't know if their local recycling facility allowed them to recycle decorating paint, and 82% said they probably would use a recycling facility if they had confidence leftover paint could be recycled.
Celebrity decorator and TV presenter Linda Barker, who is backing the call for a national paint reuse and recycling strategy, said: "Decorating was a fabulous way for us to cope with lockdowns during the pandemic, but a direct result of that is we've been left with an awful lot of unused paint – and while there are some organisations who offer recycling, coverage across the UK is sporadic at best.
"We all have a responsibility to be more sustainable and there is already a huge trend for making more environmentally friendly choices when buying paint, so we know there is a willingness to do this. We urgently need more facilities and ways for people to be able to recycle and reuse unwanted paint so it doesn't go bad sitting in a shed – or end up incinerated or in landfill."
The Society's findings were based on an online survey of 4,398 adults between 31 March - 6 April 2021, with calculations based on 27.8 million UK households.
How Can I Recycle Paint?
If you've bought too much paint and don't think you'll ever use it, there are several ways recommended by the RSC for reusing or recycling it. These include:
Check to see if your local waste recycling centre accepts liquid paint - through Recycle Now

(opens in new tab)

, for example
Check your local council website for advice and see if they provide a collection service
Use local community collection schemes such as Community RePaint

(opens in new tab)

and offer your leftover paint for community projects.
Jack has worked in journalism for 11 years and is the News Editor for Homebuilding & Renovating, a role he has had since 2019. He strives to break the most relevant and beneficial stories for self builders, extenders and renovators, including the latest news on the construction materials shortage and hydrogen heating. In 2021 he appeared on BBC's The World at One to discuss the government's planning reforms.
He enjoys testing new tools and gadgets, and having bought his first home in 2013, he has renovated every room and recently finished a garden renovation.
Homebuilding & Renovating Newsletter
Get the latest news, reviews and product advice straight to your inbox.
Thank you for signing up to Homebuilding. You will receive a verification email shortly.
There was a problem. Please refresh the page and try again.