5 Key Questions as Michael Gove is Appointed Housing Secretary
By Jack Woodfield published
As Robert Jenrick is replaced as housing secretary - we speculate on some of the policy challenges now facing Michael Gove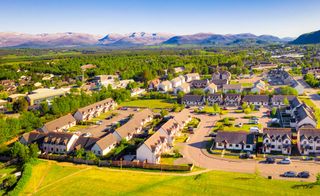 (Image credit: Getty Images)
Housing secretary Robert Jenrick was sacked in Boris Johnson's cabinet reshuffle on Wednesday and replaced by Michael Gove, a curiously timed decision ahead of the arrival of several new housing policy announcements. Consequently, a slew of uncertainties exist pertaining to developments which could affect self builders, renovators and extenders.
Mr Jenrick, the MP for Newark, was appointed housing secretary in 2019 and oversaw some major policy changes during his tenure. These included an extension of Permitted Development (PD) rights to permit two-storey upwards extensions on homes, and the publication of the planning white paper last summer. He also introduced new rights for all new homes delivered through PD to meet minimum space standards.
But Mr Jenrick's planning reforms included a controversial proposal for a zonal planning system which reportedly led to resistance from up to 100 Conservative MPs. The Times subsequently reported over the weekend that the reforms will be watered down when the Planning Bill comes before parliament later this year.
So what happens to the reforms now? And how might forthcoming housing policies be affected following Mr Gove's arrival? These are our five key questions for the new housing secretary.
It's been a huge privilege to serve as Secretary of State @mhclg. Thank you to everyone at the department for their hard work, dedication and friendship. I'm deeply proud of all we achieved.I will continue to support the Prime Minister and the Government in every way I can.September 15, 2021
1. Will the Planning Bill be Impacted?
The Planning Bill is reportedly being rewritten to assuage MPs who feared the zonal planning system left communities without a voice to object to housing developments in their area. And on Wednesday morning, before Mr Jenrick left his post, The Telegraph reported that neighbours could potentially be given a vote on developments in their local area.
The Bill is due to be released before Christmas, but the government is still yet to respond to its consultation on the reforms, which received more than 44,000 responses.
Mr Gove will take the lead on publishing both of these documents, and will have to ensure any changes he wants to make do not draw the ire of the Conservative rebels.
2. When Will Help to Build Launch?
The Help to Build is an equity loan scheme announced by the government in April to make self build more accessible and affordable. But delays persist with the rollout of the scheme.
A prospectus into how the scheme works was expected in the spring, and we are still waiting on this to be released ahead of Help to Build's launch. Hopefully Mr Gove will push on with rolling out the scheme so aspiring self builders can begin to benefit.
(MORE: The ultimate self build guide)
3. What Will Happen to the Richard Bacon Review?
Mr Jenrick previously said he "warmly welcomed" the Richard Bacon review, published in August, which makes six detailed recommendations for scaling up the self build and custom build sector.
A government response to the review is expected in the autumn, providing this timeline does not change in the wake of Mr Jenrick's exit.
4. When Will the Right to Build Review Conclude?
A review into the Right to Build laws concluded this summer, which is designed to help more self and custom builders access plots of land.
A ministerial roundtable with the self build sector took place earlier this year to assess whether further reforms of Right to Build laws are needed, but we don't know a) whether new reforms have indeed been developed, and b) when we can expect the review to be published.
5. Will The Government Continue to Back Self Build?
The government published a Custom and Self Build Action Plan in April which pledged to kick-start a self build revolution in the UK, including through the publications of the Help to Build and the Richard Bacon review. Under Mr Jenrick it was apparent that self build was attracting government focus, and this will hopefully remain the case under Mr Gove.
Jack has worked in journalism for 11 years and is the News Editor for Homebuilding & Renovating, a role he has had since 2019. He strives to break the most relevant and beneficial stories for self builders, extenders and renovators, including the latest news on the construction materials shortage and hydrogen heating. In 2021 he appeared on BBC's The World at One to discuss the government's planning reforms.
He enjoys testing new tools and gadgets, and having bought his first home in 2013, he has renovated every room and recently finished a garden renovation.
Homebuilding & Renovating Newsletter
Get the latest news, reviews and product advice straight to your inbox.
Thank you for signing up to Homebuilding. You will receive a verification email shortly.
There was a problem. Please refresh the page and try again.