Kevin McCloud looks at retrofit heat pump in a 1960s semi-detached home
The TV host exposes the myths around heat pumps and highlights the positives of the heating system which could save people on their heating bills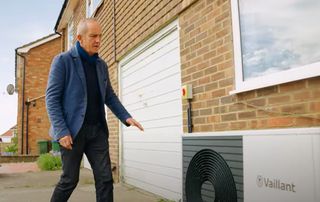 (Image credit: Vaillant)
TV star Kevin McCloud has checked out a retrofit heat pump project in a 1960s seaside home to discuss the technology's viability for installation in the UK's existing housing stock.
The Grand Designs presenter visited the property in Peacehaven, East Sussex, which went from a traditional boiler to an air source heat pump with an interface that shows how much energy has been used.
McCloud is out exposing myths around heat pumps and changing the "perception that heat pumps are somehow seen as difficult to install and they are inefficient and not as good as traditional gas boilers."
Retrofitted heat pump in the middle of winter
Luke Sheppard, the owner of the property, is a heating engineer and installed the pump to show customers it can be retrofitted to old homes.
His partner Isabel Gill says they undertook installing an air source heat pump in middle of winter with no drop off in comfort or hot water availability.
She said: "I would definitely say it was a good move. It was absolutely fine, it was a consistent temperature and didn't feel cold."
Kevin McCloud chose to visit this particular property as part of the Vaillant Heat Pump Challenge that looks for innovative setups or overcoming tricky installations — of which this home falls into the latter category with it being a retrofit project, as well as being a coastal home with harsher weather conditions, potentially putting more demand on its heat source.
Switched from a gas boiler to lower costs
The couple who installed the heat pump say they were prompted by energy price rises.
Installer Luke said: "Our gas bills were rising very quickly, so were our electricity bills, so we had to do something about it.
"As a heat pump engineer myself, I wanted to be able to show my clients you can retrofit (heat pumps) to any building and get fantastic results with it."
Isabel says she didn't even notice the switchover in terms of the temperature inside the home after advising of the benefits of a heat pump vs gas boiler.
Heat pump's interface keeps track of energy use
Luke showed McCloud the heat pump interface, which shows kilowatts used per day and system pressure.
Luke gives an insight into how heat pumps work and explained the interface's purpose: "What this does is essentially talk to the heat pump and provides a digital array of what is happening inside the heat pump and the system."
McCloud concluded: "There are so many homes like this across the country that could benefit from this kind of system. I think it really points to the future."
Get the Homebuilding & Renovating Newsletter
Bring your dream home to life with expert advice, how-to guides and design inspiration, direct to your inbox.
Sam is based in Coventry and has been a news reporter for nearly 20 years. His work has featured in the Mirror, The Sun, MailOnline, the Independent, and news outlets throughout the world. As a copywriter, he has written for clients as diverse as Saint-Gobain, Michelin, Halfords Autocentre, Great British Heating, and Irwin Industrial Tools. During the pandemic, he converted a van into a mini-camper and is currently planning to convert his shed into an office and Star Wars shrine.