House Prices: Stamp Duty Holiday Leads to 'Mini Boom', Rightmove Says
House prices soared following the stamp duty holiday announcement, with average asking prices reaching a record high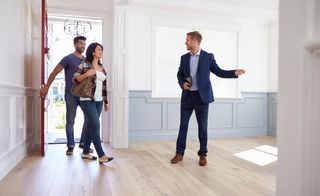 (Image credit: Getty Images)
House prices have experienced an unexpected mini boom following the announcement of a stamp duty holiday, Rightmove reports.
The property website said there was a 35% rise in the number of sales agreed in England in the five days following chancellor Rishi Sunak's announcement on 8 July - compared with the same period in 2019.
Furthermore, Rightmove data reports that asking prices climbed to a record high of £320,265 between 7-11 July, a 2.4% increase on the average asking price of £312,625 before lockdown in March, which was also then a record high.
Rightmove also reports that asking prices in July (data was recorded up to 11 July) rose 3.7% compared with this time last year, the highest annual increase for over three and a half years.
The reopening of the housing market in May has also been attributed with increased housing market activity. House viewings and transactions have been permitted since 13 May following the market freeze in the wake of the Covid-19 pandemic.
Miles Shipside, director of Rightmove said: "The unexpected mini-boom continues to gather momentum. The busy until interrupted spring market has now picked up where it left off and has been accelerated by both time-limited stamp duty holidays and by homeowners reappraising their homes and lifestyles because of the lockdown."
House Prices Could Yet Surge
The stamp duty holiday announced on 8 July will run until 31st March and exempt the first £500,000 of all property sales from the tax. Since then, a stamp duty petition has been launched to backdate refunds during lockdown.
The 35% rise in sales agreed in the five days following the announcement is unheard of, according to experts, who predict that house prices could surge following a drop during lockdown.
James Forester, managing director of estate agents Barrows and Forrester, said: "Such significant levels of buyer activity are unheard of within the UK market and should ensure a nitrous-oxide fuelled return to form for the UK property market.
"While the market will return to a more familiar form of 'normality' as this demand levels out, it has truly defibrillated any fears of a downturn in home values".
Nationwide reported earlier this month that annual house prices fell for the first time since 2012, but these new figures from Rightmove suggest that the housing market could be stronger than expected throughout 2020.
Rightmove also reports that year-on-year buyer enquiries are up 75% in the UK since the beginning of July.
However, Jeremy Leaf, former chairman of the Royal Institute of Chartered Surveyors (RICS) insists the findings should be met with caution.
"We get the impression too that many recognise this may be a relatively short-term surge as government support schemes start to fall away and news about the economy is not very encouraging", he said.
"Looking forward, we don't expect prices to increase particularly strongly as the number of new listings is also rising, providing more balance between supply and demand. The market remains price-sensitive."
Homebuilding & Renovating Newsletter
Get the latest news, expert advice and product inspiration straight to your inbox.
Thank you for signing up to Homebuilding. You will receive a verification email shortly.
There was a problem. Please refresh the page and try again.