UK Homes Struggling to Go Green Amid Energy Crisis
By Rob Keal published
Homeowners are reportedly struggling to install heat pumps and solar panels due to high prices and long delays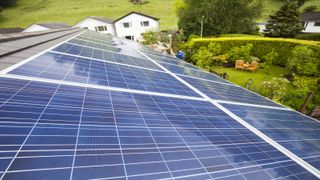 (Image credit: Getty Images)
Homes up and down the UK are reportedly finding it hard to install green home improvements such as heat pumps, solar panels and electric cars.
The i says that supply problems, long delays, Brexit bureaucracy, and high prices are to blame for homeowners having their efforts thwarted to become environmentally friendly. Double glazing cannot be procured easily right now either.
If you're installing a brand new air source heat pump then you may have already noticed that supply issues means they are not always readily available — and green energy solutions could continue to be affected.
Which Renewables Are Facing the Most Problems?
The i conducted interviews with several industry insiders and reports that the most commonly affected renewable energy sources are heat pumps, solar panels and solar batteries.
There has reportedly been an increase in demand for these energy-saving materials following the Spring Statement, which saw VAT on certain energy efficiency products including heat pumps and solar panels slashed from 5% to 0%.
Moreover, energy price rises of 54% took effect this month, affecting millions of homeowners, with some installers now reportedly overrun with enquiries in recent months as people look to save money on their energy bills.
Heat pumps
The Boiler Upgrade Scheme launched this month which means that homeowners will soon be able to access £5,000 or £6,000 to put towards the installation of a heat pump, and demand is expected to ramp up.
But industry insiders reportedly say that a combination of post-Brexit legislation and a shortage of chips needed to make the heat pumps work is responsible for the backlog now being experienced.
Plus, there is the added obstacle of there being just 1,200 heat pump installers in the UK, as opposed to 96,000 gas engineers — according to the Independent Networks Association.
Solar panels
While supply of the solar panels remains generally consistent, the batteries and other components needed to make these systems work has stalled. The COVID-19 pandemic is reported to be the most probable cause of this shortage.
Some customers may reportedly also experience longer solar installation timelines and higher installer rates as a result of disrupted supply chains.
Double Glazing
Wait times for double glazing to be fitted have leapt from four to 20 weeks, according to Risa, while double glazing costs have risen by around 20% in the past year.
What Can Households Do?
Heat pumps and solar panels work to limit the amount of carbon emissions per household, but with current supply chain issues ongoing - the construction materials shortage has worsened due to the Ukraine war - forward planning is key.
This is particularly important if you're applying to the Boiler Upgrade Scheme, which only affords homeowners with three months to have a heat pump installed.
So for heat pump and solar panel customers, patience is recommended until your preferred model becomes available. Alternatively, you could find a different installer and compare products; it may be that a different model suited to your needs is already available.
Rob Keal is the Content Editor at Homebuilding & Renovating. With a background in content marketing, he began his career back in 2016 as a freelancer, before honing his craft at various digital marketing agencies. Looking to specialise in DIY and homes, he joined the team in February 2022.
Renovation has been part of his life since he was nine years old, when his parents bought a medieval cottage and completely revived it, introducing him to kitchen remodels, loft conversions, landscape gardening, and much more besides along the way. A bedroom extension and patio refurbishment are among his next planned projects. He is also passionate about interior design and landscape gardening.
Homebuilding & Renovating Newsletter
Get the latest news, reviews and product advice straight to your inbox.
Thank you for signing up to Homebuilding. You will receive a verification email shortly.
There was a problem. Please refresh the page and try again.