Advertisement Feature
Let Crisp And Colourful Cladding Take Your Home To The Next Level
By Alison Jones published
Enhance your house's exterior with smart new weatherboard cladding that will transform and protect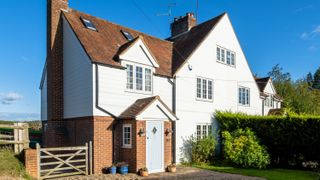 (Image credit: James Hardie)
Content supplied by James Hardie
Kerb appeal counts when it comes to houses, for the people that live there as much as for visitors. When it comes to home improvements, it can be easy to overlook the external in favour of internal improvements as we redecorate or restructure the space into the home we want it to be, that works best for our needs – whether that's for more room, places where families can come together or decoration that expresses our personality and lifts our mood.
But that sense of achievement should be extended to the outside of the house. The exterior can have just as much potential for updating and elevating its looks as the inside.
The transformed facade won't just hide or replace the more tired aspects of a home, like the battered brickwork or crumbing render, it can make the dated seem modern, give a bland building personality or make an architectural statement that helps your home stand out among its neighbours.
Cladding can transform
Cladding is an excellent way to achieve this. Whether it is the whole house or just part of it, cladding can add an extra dimension to a home and make the ugly look lovely. Traditionally wood planks or strips were used for cladding, with evidence of its use dating back as far as the fifth century. Now cement weatherboard, a 20th-century creation, has become a popular and practical alternative that can very convincingly mimic the look of wood or even stone.
In most cases, cladding is an update you can make to your exterior without needing to apply for planning permission. There are exceptions if your house is listed, in a Conservation Area or an Area of Outstanding National Beauty, so check with your local authority to make sure.
Long-lasting and protective
Fibre cement weatherboard is a very affordable option that can result in an upscale look. It is durable and low maintenance, not requiring the same upkeep as some natural cladding. Quick to install, it also comes in a variety of colour options, baked on at the factory rather than painted when on site, so no VOCs are released into the atmosphere.
And they come in different textures for additional interest up close – whether you prefer a rougher more rustic appearance, or something smooth and contemporary. Coupled with moisture-preventative products, such as flashing and tape, it can also form an effective barrier to inclement weather.
Full of design possibilities
The decision of how much cladding you use and the way it is laid is about much more than pattern, it is about the feeling they can give to a house. A classic look is where the horizontal planks overlap or have an open joint. Or they can be laid vertically in a hit and miss style, with every other plank standing out while its neighbour is shallower.
If you prefer a more seamless modern style, the planks can link smoothly together. Timber-effect cladding all over a larger house can give a colonial appearance or evoke a New England feel. The instantly recognisable homes along the American east coast were actually inspired by the architecture and design of English houses, the ideas brought across and recreated by the 17th century settlers.
Add a modern twist
Laying fibre cement weatherboard in differenr colours or in different patterns, whether that's horizontally, diagonally or vertically, can give a fresh modern look to a mid-century house.
Using the timber-look cladding on the top floor of a property can be a popular option, it can highlight particularly features, such as windows, or create a pleasing contrast with the brick or render on the first floor. The possibilities are as endless as your imagination.
The HardiePlank® Product Family
HardiePlank® cladding by James Hardie® (opens in new tab) is a versatile, low-maintenance weatherboard that looks like natural cedar or larch. It comes pre-made in an array of durable, fade-resistant finishes with a choice of 21 colours and two textures (smooth and natural cedar mill). The colour is actually baked on in the factory so it won't be affected by the weather.
The new HardiePlank® VL fibre cement board is an easy to fit interlock weatherboard with a chic design and timeless flat finish. Beautiful and durable, it can be installed horizontally or vertically, perfect for a contemporary design.
Available in a natural cedarmill finish, HardiePlank® VL comes in a timeless colour palette of six colours to maximize architectural features from graphic monochrome and soft pastels to muted greys.
For more information or to make an enquiry, please email info@jameshardie.co.uk
Homebuilding & Renovating Newsletter
Get the latest news, reviews and product advice straight to your inbox.
Thank you for signing up to Homebuilding. You will receive a verification email shortly.
There was a problem. Please refresh the page and try again.