The 6 Best Garden Shredders for Churning Through Branches and Twigs
By Jack Woodfield published
The best garden shredders do the hard work for you by easily disposing of your garden waste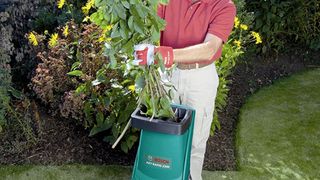 (Image credit: Bosch)
Owning one of the best garden shredders is essential if you find yourself facing a pile of twigs, branches and leafy materials. When the other options are spending the day manually cutting them down to fit into your green waste bin, or driving to the local tip, it's a no-brainer to invest in a shredder that does the hard work for you.
While a strimmer will keep your hedges and shrubs in check, a garden shredder is practical for cutting this waste down to size, and sprucing up your garden design.
Garden shredders can be technical pieces of kit so finding one that's easy to use is a must. You might also want to look for a shredder that has a collection box, which means you can compost your waste.
Plus, look out for models that come with a plunger, which will help you feed debris through the hopper so you can avoid the thorns of branches.
Here's our guide to the best garden shredders available now.
Best Garden Shredders
1. Bosch Shredder Chipper AXT 25 TC
The overall best garden shredder
Reasons to buy
+
Robust design
+
Easy to use and store
+
Quiet
This Bosch model is brilliantly designed for both efficiency and user-friendliness, making it a great option for beginners or those looking to upgrade their shredder.
It comes with the wheels already attached, so to turn it on you just need to clip in the top hopper (which can be easily removed when you're finished), engage the collection box and switch it on. It cuts branches up to a sizeable 45mm in diameter (the widest on this list), and easily handles both wood and leafy materials.
It's also remarkably quiet, which your neighbours will thank you for, and you can get through 230kg of waste per hour. Plus, once you've removed the hopper it stands at just 67cm, making it easier to store.
It's heavy, however, and a sizeable financial outlay, but the best machines always cost a bit more - and this Bosch shredder is no exception.
---
2. Cobra QS2500 2500W Quiet Electric Garden Shredder
The best garden shredder for a quiet life
Reasons to buy
+
Very quiet
+
Long cable
+
Auto-feed and reverse
Reasons to avoid
-
Not as effective on leafy materials
Garden shredders can be noisy machines, so the words 'quiet drum technology' are like music to our ears.
That's what you get with Cobra's QS2500, which is one of the quietest machines around, utilising a drum cutting system which makes shredding quieter without impacting on cutting efficiency.
It can deal with branches and twigs up to 40mm in diameter, and includes an auto-feed function which makes it easier to shred, as well as a reverse function for quickly clearing jams. Additionally, a plunger is included for tackling heavier loads.
It also comes with an impressively long 10-meter power cable, and the large wheels ensure easy usage when moving it around the garden.
---
3. Einhell Electric Shredder GC-KS 2540
The best garden shredder for your budget
Reasons to buy
+
Good price
+
Lightweight
+
Robust blades
Not only is this budget-friendly machine from Einhell inexpensive but it's also good value for money and very efficient.
It easily shreds both wood and leafy materials, and the two long-lasting, robust reversible blades will handily chop through tree branches providing they're below the 45mm maximum diameter. There's also a motor circuit breaker to prevent overloading.
It's lightweight and easy to use, and while it doesn't come with a collection bag it does have debris bag which is fitted on to a hook. It also comes with a plunger.
It is pretty noisy and it requires some assembly, however. It's also not as effective for larger shredding tasks, but fits the bill for occasional seasonal pruning.
---
4. Bosch Shredder AXT Rapid 2200
A lightweight and compact model
Reasons to buy
+
Lightweight + compact
+
Efficient
+
More affordable than Bosch's premium shredder
Bosch's second entry on this list is cheaper than the AXT 25 TC, and while it lacks some of the mod cons, it compensates with laser-cut precision blades to cut through vegetation. It'll happily swallow branches up to 40mm wide and can effective slice through wood and green waste.
You can put 90kh an hour of waste through the hopper, and it comes with a plunger to help you feed debris through.
It's a little inconvenient that there's no collection bag nor a debris bag either, so you'll need a box or a tarpaulin underneath to collect the waste.
---
5. Spear & Jackson S28ES Crushing Quiet Garden Shredder
The best garden shredder for power
Reasons to buy
+
Huge collection box
+
Very powerful motor
+
Robust wheels
Reasons to avoid
-
Not the most consistent shredder
This is a really powerful shredder that boasts a 2,800W motor to slice through your garden waste. And combined with a huge 60L collection box, this is a great shredder to have if you want to infrequently blast through lots of detritus.
It shreds branches up to 42mm in diameter, and comes with overload protection and a reverse function to help remove jams. It's also very quiet, comes with a plunger, and its wheels are robust for ease manoeuvrability.
The only downside is that it isn't 100% consistent with shredding smaller materials.
---
6. Ryobi RSH3045U 3000W Silent Impact Shredder (Bare Tool)
The best cordless shredder
Reasons to buy
+
Powerful
+
Safety plunger
+
Easy to manoeuvre
Reasons to avoid
-
Battery costs extra
-
Expensive
Ryobi's RSH3045U is a powerful 3,000W impact shredder which boasts impressive features.
It operates through two reversible, hardened steel blades which easily shred branches, shrubs and brambles up to 45mm in diameter. Once you're ready to empty the waste, simply press the safety plunger (which keeps your fingers away from the cutting blades) and it will push it out into a large 55L collection box.
It's not 'silent' as advertised, but you certainly won't need ear defenders. There's also an integrated handle for ease of use, and it comes with large wheels for easy movement around the garden.
You can buy the bare tool if you already a Ryobi ONE+ battery pack, or you can buy the shredder and battery together.
How to Choose the Best Garden Shredder
Before you buy your new garden shredder, it pays to be aware of a few things.
Firstly, most shredders won't handle anything thicker than 45mm in diameter, so you'll need another way to dispose of tree trunks. Also, you may still need to cut off stiff twigs or larger growths on a branch as these won't fit through the hopper's opening slot.
Also, be careful when inserting branches, especially thorn-covered branches, as they can jerk about quite violently, meaning lacerations are a risk. For this reason, you're advised to wear gloves and goggles or sunglasses.
Types of shredder
There are two main types of shredder: impact shredders and drum shredders. Knowing the differences between them can help you understand how to match your shredder to the demands of your garden.
Impact shredders chop up what you feed using fast spinning blades and can generally process leafy and green material too. They tend to be on the noisy side, and can jam if you want it to process too much at one time.
Drum (or quiet) shredders use a slow rotating, bladed wheel that traps waste against a solid plate and cuts it into little pieces. They're less noisy, but less effective at dealing with leafy materials.
Collection containers
Many shredders will include collection bags which you can use to fertilise your lawn or simply carry to the recycle bin. Some will just come with a debris bag.
But some shredders won't have either, in which case you'll either need to buy a collection or debris bag separately, or use something like a tarpaulin to place under the shredder to catch the waste.
Jack has worked in journalism for 11 years and is the News Editor for Homebuilding & Renovating, a role he has had since 2019. He strives to break the most relevant and beneficial stories for self builders, extenders and renovators, including the latest news on the construction materials shortage and hydrogen heating. In 2021 he appeared on BBC's The World at One to discuss the government's planning reforms.
He enjoys testing new tools and gadgets, and having bought his first home in 2013, he has renovated every room and recently finished a garden renovation.
Homebuilding & Renovating Newsletter
Get the latest news, reviews and product advice straight to your inbox.
Thank you for signing up to Homebuilding. You will receive a verification email shortly.
There was a problem. Please refresh the page and try again.