Best Furniture Paint: Which Brands to Buy in 2022
By Steve Jenkins published
The best furniture paint will give old, tired furniture a new lease of life. Our decorating expert offers their top picks for the best finish to your upcycle projects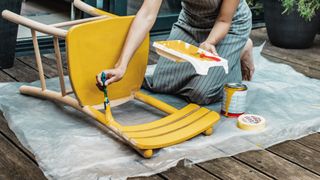 (Image credit: getty images)
If you want to quickly update your old, tired wooden furniture, a coat or two of the best furniture paint is an affordable and eco-friendly way to make it happen.
It's easy to apply, commonly self-priming and gives good protection as well as making your chairs, cupboards, dressers and sideboards look the part. But furniture paint is also something of an all-rounder, so if you have any left over it typically works on metal, plastic and even brick and stone, so it can even work for painting a wall.
Here we give you some pro tips to help you choose the right finish for your indoor and outdoor furniture.
What is the Best Furniture Paint?
1. Rust-Oleum Chalky Finish Furniture Paint
Smooth tough finish that looks great
Tin size: 750ml, 2L | Coverage per l: 12m2 | Drying time: 1 hour | Finish: Matt
Fully hardened in less 24 hours
Beautiful smooth matt finish
Self-priming
Virtually odourless
Interior use only
If you want a smooth, shabby chic look for your furniture then you are going to love this paint from Rustoleum. It is a water-based paint with virtually no odour that is easy to apply - with brush or roller - and gives great coverage with a single coat. However, we recommend adding a second coat.
This self-priming paint that goes straight onto wood or metal with little preparation, but a quick rub down always helps the paint adhere better. It is touch dry within one hour and ready to add another coat in four hours. Wait another four hours and it will be fully hardened and ready to use. But, we recommend only using this on indoor furniture.
---
2. Frenchic Al Fresco Furniture Paint
A matt finish for indoor and outdoor furniture
Tin size: 250ml, 750ml | Coverage per l: 14m2 | Drying time: 1 hour | Finish: Flat matt
Easy to apply
Covers well
Long-lasting finish
Self-priming and self-levelling
Long hardening time
If you want a furniture paint that works indoors and outdoors then the Al Fresco range from Frenchic is a paint that you need on your wishlist. A self-priming and self-levelling paint it goes on to wood, metal or plastic really easily and its high opacity means that it covers really well. But, two coats and a little surface preparation are recommended to get a good-looking, long-lasting finish.
The paint is touch dry within an hour and you can add another coat after another hour. But you will need to leave the paint for 48 hours before you should consider putting cushions down or sitting on it. To get the maximum lifespan out of the paint you need to leave it indoors for a couple of weeks to fully harden.
---
3. Dulux Trade Diamond Eggshell
Introduce a mid-sheen finish to indoor furniture
Tin size: 1l, 2,5l, 5l | Coverage per l: 16m2 | Drying times: 4 hours | Finish : Eggshell
Hard-wearing and durable
Subtle mid-sheen finish
Wipeable
Stops stains
Interior wood only
Though not specifically a furniture paint, this tough, hard-wearing and durable paint has a mid-sheen finish that works well on wood, but only interior wood. You will need a primer for painting on bare wood, but on previously painted wood you just need a quick rub down.
The paint contains stain repellent technology which helps stop stains seeping through and keeping the finish looking good for longer. It also helps protect the finish against scuffs and when it does get an everyday mark you can wipe down without spoiling the finish. It is touch dry within an hour or two and re-coatable within 4-6 hours, but leave for at least 24 hours before using as normal.
---
4. Rust-Oleum Gloss Finish Furniture Paint
Give your furniture a classy high gloss finish
Tin size: 750ml | Coverage per l: 14m2 | Drying time: 1-4 hours | Finish : Gloss
Easy to apply
Durable and long lasting
Classy high gloss finish
No primer needed
Indoor use only
If the popular chalky finish isn't your style and you want something that adds a stylish high gloss finish then this paint is definitely one to take a look at. A water-based gloss - makes it easy to clean brushes and rollers - it provides a durable and long-lasting finish that is easy to wipe.
For indoor furniture only it is nice and easy to apply - brush or roller - and is self-priming - just needs a rub down. But this does mean you will need at least two coats to cover properly. Drying time is just an hour and you can recoat within four hours in the right conditions. Wait another four hours and your furniture is ready to use.
---
What Type of Furniture Paint is the Most Popular?
The popular finish for furniture paint is chalky. This gives a smooth flat low-sheen finish that has the feel of chalk. It's non-reflective and does a good job of hiding imperfections.
Other finishes like matt and eggshell are similar but have a higher sheen, even though it's still low. Gloss has a high sheen and can look great on furniture, but it doesn't hide imperfections well, so you will need to do a bit more prep.
Whatever furniture paint you choose they are typically hardwearing, durable, wipeable, cover well, need little prep and are easy to apply. However, they're not all suitable for use outdoors, and you should investigate the best exterior wood paints for use in the garden.
Tips for Painting Furniture
If you are painting a chair, a brush is the best option to get into all parts. Start at the top and work your way down. Add a small screw in the bottom of each leg to keep it just above the ground to help paint the legs. Alternatively, turn the chair upside down, paint the legs, wait for them to dry, turn over and finish. Make sure to put down dust sheets or paper.
If you are painting furniture with lots of flat areas - like a cupboard, dresser or sideboard - a 4-inch mini is the best paint roller to use. A short pile will give a more rustic look, while a foam roller will give a smoother, more polished look.
The paints we have chosen for this guide are the popular options - chalky, eggshell, gloss and matt - but you may want to try something different. If you like the shabby chic look, crackle paints take it to another level. These give a vintage, dried paint effect where it looks like the paint has pulled away from different areas to create gaps. Metallic paints like gold, bronze, copper and silver are great for trim and can give furniture a little more class.
Then there is always the option to move away from white and subtle shades and invest in bold, bright colours to make your furniture stand out. For something completely unique take a look at stencils and use your imagination on how you apply them.
Once you have finished you can use wax or lacquers to add more protection to the paint. Rustoleum and Frenchic have their own ranges to go with their products.
Steve is an avid DIYer with over 20 years of experience in transforming and renovating homes. He specialises in painting and decorating, but has strong all-round building skills, having previously worked in the industry for 10 years.
Homebuilding & Renovating Newsletter
Get the latest news, reviews and product advice straight to your inbox.
Thank you for signing up to Homebuilding. You will receive a verification email shortly.
There was a problem. Please refresh the page and try again.