Top Tips for Creating a Beautiful Low Maintenance Garden
By Sponsored Content published
Dreaming of a beautiful garden without the hassle of upkeep? Turn that dream into a reality by choosing a low-maintenance design scheme and easy-to-care-for products.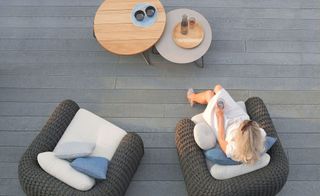 (Image credit: Millboard Decking)
CONTENT SUPPLIED BY MILLBOARD DECKING
With the arrival of Spring it is not unusual to start thinking about sprucing up your outdoor spaces, perhaps with new garden decking, a shady seating spot or a new planting scheme. But whilst many of us want to create a garden in which to enjoy our leisure time, what we don't want is outdoor areas that are going to require a massive amount of effort to stay looking their best.
We show you the top five ways to create gorgeous gardens that are also easy to maintain — striking the perfect balance between aesthetics and effort.
1. Choose Wood Effect Decking
Outdoor decking is the ideal way to create seating areas quickly and with minimal effort, whether you are after a shady spot to read, a patio area for entertaining or simply a quiet corner from which to admire the view.
However, for many people considering garden decking, concerns can arise about its durability and the fact that traditional wood decking can become slippery in wet weather.
For this reason, it is wise to choose anti slip decking. Take a look at products such as the wood effect decking from Millboard which is hand-moulded from real timber before being hand-painted, meaning it is virtually indistinguishable from real timber decking boards.
2. Opt for Low Maintenance Products
Certain products look amazing but require lots of upkeep to stay that way — think grass, natural stone paving, real wood decking.
Grass needs regular mowing so if this is going to be a problem for you, consider artificial grass or skip the grass altogether or create a space made up of gravel, shrubs in raised beds and pots and garden decking instead.
Natural stone paving requires power washing in order to hold on to its good looks, whilst natural timber can become slippery, rot or warp — consider a wood effect decking instead.
3. Choose Shrubs over Flowers
Sticking to evergreen shrubs and hedging over flowers tends to be the best idea for hands-off gardeners — a quick prune or trim will be all that is required, as opposed to lots of deadheading, supporting, watering and care.
4. Keep Lawn Space to a Minimum
Whilst the dream might be a pristine lawn complete with neat stripes, the reality is that for a lawn to look great it needs regular mowing and maintaining if it is to remain tidy and well-drained.
Those after a low-maintenance garden scheme should consider keeping lawn space restricted and instead look to an easy-to-care-for product such as outdoor decking or perhaps gravel or paving — or a combination of these for added visual interest.
5. Avoid Traditional Flower Beds
Whilst beds overflowing with a cacophony of colour co-ordinated flowers might be stunning to look at, they are also hugely time-consuming to maintain.
Instead, form a display using a selection of pots and containers or raised beds and place them on a space created using outdoor decking. Using a wood effect decking means you can water your new planted display without worrying about the decking boards warping or rotting.
For more information on Millboard decking and to order samples visit www.millboard.co.uk/samples (opens in new tab)
Homebuilding & Renovating Newsletter
Get the latest news, reviews and product advice straight to your inbox.
Thank you for signing up to Homebuilding. You will receive a verification email shortly.
There was a problem. Please refresh the page and try again.