7 Lessons You'll Learn When Building in a Pandemic
By Katie Corcoran published
There's never been a harder time to think about building a house than during a global pandemic. Heed this advice from those who have been there and done it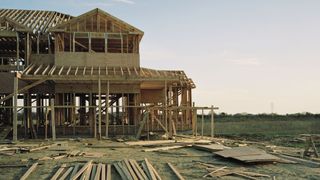 (Image credit: Getty Images)
For many of us, spending more and more time at home during the pandemic has highlighted the fact that our homes aren't necessarily up to scratch. Maybe we have a need for additional space for a permanent home office, or to better use of existing space to relieve space pressures on the rest of the home.
So it is unsurprising that in a 2020 survey by Money.co.uk, homeowners in the UK invested £55bn in renovating or improving their homes during lockdown, with an average spend of £4,035.70 per home.
Beyond improvements to existing homes, many self builders have been trying to navigate their projects during multiple lockdowns, which is not without its challenges.
Material and plaster shortages, the availability of tradespeople, a plethora of new safety restrictions have put extra strain on many self build projects.
But it doesn't have to spell disaster. Here are seven lessons learned by those who have braved building during the pandemic and managed to make it work.
(MORE: Lockdown Construction)
1. You'll Need to Factor in Extra Budget for Material Shortages
We've had three national lockdowns within a year and uncertainty relating to Brexit, so supplies of plaster and plasterboard have dwindled (shortages can be traced back to factories being closed during the first lockdown in March 2020, when workers were unable to meet social distancing rules).
Since then, supply chains have been stretched and many suppliers continue to face rolling shortages.
Self builder Pasty Parr, who built her first home throughout 2020, remembers paying well above the average price for plaster during the shortages which saw some prices triple.
"The price that we paid for plaster was unbelievable because you just couldn't get hold of it!" says Patsy.
Beyond that, Patsy also faced other challenges:
Extra safety precautions: managing numbers on site and providing plenty of hand sanitiser
Social distancing: ensuring everyone kept a safe distance from other workers and travelled to work safely
Deliver delays: waiting extra time for major parts to be delivered
In the face of numerous challenges, Patsy was also furloughed from her full time job, but it turned out to be a blessing in disguise as she could spend more time on site.
"It was amazing, to be able to watch it and manage it, so that was definitely a silver lining," remembers Patsy.
See more of Patsy's self build journey in the video below.
2. You'll Become an Expert in Online Ordering
Builders' merchants and garden centres in England have been classed as essential retailers, but consumers are understandably reluctant to go into stores if they don't have to.
Shopping online allows you to browse and purchase many items for your project from the comfort of your own home, but you may find that you need to shop around for the products you want due to high demand.
Place online orders in plenty of time to allow for any delivery delays.
(MORE: DIY Projects to Tackle During Lockdown)
3. You Might End Up On Site More Than You Think
The biggest bonus about working from home when building an extension or new home is you get to project manage the work much more easily and efficiently as Holly Johnson and her partner Henry Hudson discovered.
They had an initial start date for their new house in April 2020 — right in the middle of the first lockdown. They had to delay for a couple of weeks but after speaking with their builder and establishing what he thought was safe and what the team were happy with, they were able to start back up again when sites reopened.
"Oddly, it has actually been really helpful working at home all the time in the last couple of months as we're able to pop to the site during working hours which we couldn't have done normally," they said.
(MORE: How to Project Manage)
One of the other main concerns turned out to be sourcing the materials to be ready on site. Holly and Henry didn't want to start digging foundations only to find out the concrete supply chain had been interrupted.
Things gradually eased from May 2020 onwards but building in lockdown definitely added a layer of stress they could have done without.
4. Everything Will Take Longer
There are always unexpected delays when it comes to building a house, but expect much longer ones when taking on a project during a pandemic!
Jane and Jack Cresswell had their planning permission approved in 2019, but it took a full further year to demolish their original property, complete the groundworks and construct the tanked basement which then lead onto the first lockdown of 2020.
"It was really tough, partly because we found a huge waterpipe that had to be re-routed. Then we had lockdown and everyone went off site for 10 weeks. We only had half the roof on but there was nothing we could do."
Undeterred, the couple worked with their builder to keep the project on track, finding elusive plasterers and other tradespeople and tracking down scarce materials.
"We had real ups and downs, even from the start, but every time I go to site, I feel a lift from it," says Jane. "I can see the progress — sometimes on a daily basis. We have a great team and we work well with the builders. We come round nearly every day and I can't imagine doing a project without living round the corner."
5. You Must Follow New Rules and Restrictions
During the pandemic many self-builders and renovators have found jobs take longer because there are less people on site at any one time due to social distancing rules and extra safety precautions around cleaning to keep the site safe.
Currently, builders are allowed to work but employers should ensure the people on site are able to follow the public health guidance, travel to work safely and, where possible, stagger site hours.
When it comes to a renovation or extension project official government guidance states that a tradesperson is allowed into your home if it is to work.
However they must:
Remain two metres away from members of the household
Wear a mask when inside
Wash their hands when entering the property
Minimise contact with others
Regularly clean all surfaces and areas touched
Remember, if anyone in the household is experiencing Covid-19 symptoms then work must stop immediately and those with symptoms must isolate.
Builders and tradesmen are not allowed into houses where people are isolating.
(MORE: Find a Builder)
6. You Could Experience Unexpected Costs
The main challenge that building in the pandemic has created is that everything is taking longer.
Fewer people on site means that you will need people on site for longer, causing a knock-on effect throughout the whole project and as any experienced self-builder or renovator knows, delays cost money.
Sharon and Sayu Sinha started work renovating their west London home in the first week in January 2020.
Then Covid hit and they shut the site for three to four weeks, after which they went from having six men on site to only three - everything was delayed and they were still having to pay rent on their temporary accommodation and mortgage payments on the property they were renovating.
By March 2020, the property still had no heat and no electricity so they couldn't move in and had to continue renting.
This was compounded by the fact that many of their second fix items took longer than expected to arrive.
"Do you wait two or three months for a cheaper item to come back into stock, or do you throw money at the problem to get the item right away and get the builders off site quicker? It's been a rollercoaster — a real series of highs and lows," they said.
Thankfully they've been on site most days and moved at the end of 2020.
7. You'll Still Need to Stick to Your Schedule of Works
If part of your project is delayed, it can be tempting to charge ahead with other aspects you are able to complete to keep momentum going. But do be cautious that this doesn't become a false economy. Completing tasks outside of the schedule of works could prove problematic.
Katharine White and Liam McCullough's new roof was meant to go on in spring 2020 but had to be delayed due to the pandemic.
They had been able to work on some other parts of the house in the meantime, but they didn't want to start rewiring and replastering before they knew the new roof was in place, otherwise they would have to do it all over again.
(MORE: How to Renovate on a Budget)
Katie is an experienced journalist and has renovated two houses including a 200-year-old cottage and a 1950s semi.
Homebuilding & Renovating Newsletter
Get the latest news, reviews and product advice straight to your inbox.
Thank you for signing up to Homebuilding. You will receive a verification email shortly.
There was a problem. Please refresh the page and try again.