How to Measure for Laminate Flooring, Estimate Quantities and Cut to Fit
By Hugh Metcalf published
Not sure how to measure for laminate flooring? We ask the experts for their top tips, advice and need-to-know basics to ensure you order enough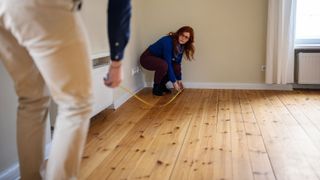 (Image credit: getty images)
Understanding how to measure for laminate flooring is an important part of the prep work for laying a new floor — but one that's often overlooked.
While it may seem simple enough to make a rough estimate of the flooring you'll need, you may find that you over order, leaving you with spare packs that aren't used you'll need to return, or under order, potentially causing delays to your project. To avoid this outcome, think about measuring properly as step one of how to lay laminate flooring and start right.
This guide will explain how to measure for laminate flooring and offer advice for purchasing the right quantity, as well as tips for measuring your laminate when cutting and installing.
How do I Measure a Room for Laminate Flooring?
A basic formula for working out a room's area is used to measure for laminate flooring. For a simple rectangular or square room, simply multiply the length and the width of the room. For example, a room that is 3 metres by 4 metres will give you a floor area of 12m2.
Ideally, you'll have two people to measure a room for laminate flooring. Use a retractable tape measure, placed on the floor to ensure its level and accurate. It may be worth checking the width and length at several intervals along the room while you have the tape measure out, as rooms are not always perfectly straight, especially in older houses, and identifying this early will be helpful when it comes to installing your flooring.
Rooms which have a less standard shape will take a little more work to measure. "If your room is L-shaped or has alcoves or bay windows, things become a little trickier," says Lee Thompson, Technical Manager at Quick-Step. "You need to divide your room into separate smaller areas, adding these together to come to your final quantity."
How Much Laminate Flooring Should I Order?
Now you've worked out how to measure the room, it's time to order the flooring itself.
First things first, it's recommended that you add a percentage onto the meterage of your room when ordering most types of flooring, including laminate. This is to account for wasted plank offcuts, ensuring you have enough to complete your flooring. "If it is a standard room, expect to add 5% extra floor, but for more difficult rooms with many angles, curves, etc., allow 10% extra," suggests Lee.
Next up, you'll need to choose a flooring and look at the meterage per box to work out how much you need to order.
"Every laminate range will have a different m2 in each box, so divide your basic square meterage by the meterage per box of your chosen laminate," explains Inga Morris-Blincoe, General Manager at Lifestyle Floors. "Then round up to the nearest whole box to ensure you have budgeted for enough flooring."
This equations should give you an idea for ordering underlay for your laminate flooring too, however, you'll need to take into account the width of the underlay and how much is on a roll.
What About Laminate Scotia?
Laminate scotia is used to create a tidy finish around the edge of a room when retaining the skirting boards. It's a small strip of beading, designed to match your floor finish, that will cover the edges of laminate around a room, helping to disguise uneven cuts and gaps. It's usually supplied in lengths of 2.4 metres.
"If you require a scotia, you can calculate how much you need by measuring the perimeter of your room, dividing by 2.4, and then rounding up to the nearest whole number to find out how many 2.4m lengths you need," says Inga.
How do I Measure Laminate Flooring Planks When Cutting and Installing?
Another point during the installation process that you'll need to learn how to measure laminate flooring is when cutting for the edges. This can, largely, be done just with a standard retractable tape measure, measuring from the last plank laid to the end of the wall.
However, it's not advisable to measure directly to the wall so that the laminate plank is pressed tightly against it.
"You should always leave a gap of 10 millimetres at walls, thresholds, stairs, pipelines, etc., to allow the floor to expand." explains Quick-Step's Lee Thompson. " Floors expand and shrink due to differences in temperature or humidity and need space to move. This will prevent open joints and cracking sounds."
This 10mm gap will be covered either by skirting or by the scotia.
For cutting around corners or complex details, there are tools for laminate flooring that you can buy to make this job much simpler. Products like this contour gauge duplicator from Amazon aren't expensive, but can make templating these complex cuts far easier.
Hugh is Digital Editor of homebuilding.co.uk and has worked on a range of home, design and property magazines, including Grand Designs, Essential Kitchens, Bathrooms, Bedrooms and Good Homes. Hugh has developed a passion for modern architecture and green homes, and moonlights as an interior designer, having designed and managed projects ranging from single rooms to whole house renovations and large extensions. He's currently renovating a Victorian terrace in Essex, DIYing as much of the work as possible. His current project is a kitchen renovation which involves knocking through walls and landscaping a courtyard garden.
Homebuilding & Renovating Newsletter
Get the latest news, reviews and product advice straight to your inbox.
Thank you for signing up to Homebuilding. You will receive a verification email shortly.
There was a problem. Please refresh the page and try again.