Advertisement Feature
Choosing Homegrown Timber for Your Cladding
By Sponsored Content published
Why British timber cladding could be perfect for your project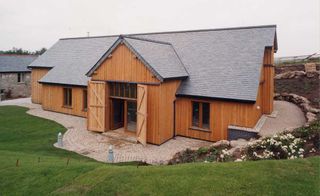 (Image credit: Vastern Timber)
CONTENT SUPPLIED BY VASTERN TIMBER (opens in new tab)
Timber cladding is not only a natural way to improve your home's exterior, but also offers insulation and protection against harsh weather.
When it comes to choosing the right timber for your cladding, there is much to consider. While imported options such as Siberian larch or Canadian western red cedar are popular, it's wrong to assume that the timber has to be imported to be of the right quality or price.
Stable, Durable Cladding
Vastern's Brimstone is a cladding made of homegrown ash, poplar and sycamore. Thermal treatment makes Brimstone cladding stable and durable, it does not require coating or a maintenance cycle, and it weathers beautifully.
Traditional choices include British grown larch (opens in new tab) for a rustic look, and English oak (opens in new tab) for a classic, premium finish. Modern thermal treatment transforms homegrown hardwoods like sycamore, poplar and ash, into 'Brimstone (opens in new tab)' cladding, which offers a durable, contemporary and cost-effective cladding option.
Benefits of Choosing Locally-Sourced Timber
Choosing local timber reduces environmental costs of long transportation. This is especially pertinent if you are looking to put sustainability and ecology at the heart of your build.
Timber Specialists
Vastern Timber is the largest UK sawmill specialising in British hardwoods and specialty softwoods, and one of the leading producers of timber cladding. It offers a wide range of timber cladding originating from British woodlands, including traditional species such as oak, larch and cedar.
Buying British wood cladding also benefits local woodlands. Buying British encourages the planting of more woodland areas and managed woodland provides cleaner air, reduces flooding and enhances wildlife habitats. Only 13% of Britain's land area is wooded (opens in new tab) (compared to 37% in Europe), and only 55% of woods are properly managed. Buying British will help increase the number of managed woodlands, offering both environmental and economical benefits.
Tom Barnes, Managing Director of Vastern Timber (opens in new tab) said: "I passionately believe that choosing locally grown timber helps support our woodlands, financing their development and management. When a homebuilder chooses timber they are choosing a natural building material that is durable, beautiful and renewable."
Vastern's timber cladding options cover all styles and budgets. Prices range from £15/m² to £60/m² depending on your specification. For more information, check out the website (opens in new tab).
Homebuilding & Renovating Newsletter
Get the latest news, reviews and product advice straight to your inbox.
Thank you for signing up to Homebuilding. You will receive a verification email shortly.
There was a problem. Please refresh the page and try again.