Three-Phase Electricity: Do I Need it For My Home?
By David Hilton published
You might need three-phase electricity if you're thinking of installing a heat pump or solar PV panels, says energy expert David Hilton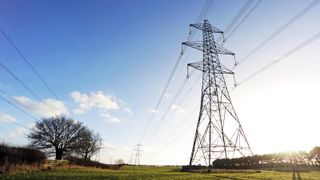 (Image credit: Getty Images)
Single-phase electricity gives us enough power to run all our lights, electronic gadgets, kitchen appliances and (for those without a gas supply) our cooking and heating. For most homeowners, it gives us what we need.
But with the push towards electric vehicles and ever-increasing interest in ground source and air source heat pumps for domestic use, we are presented with a new challenge — how do we ensure our electricity supplies can cope with the higher demand?
Making sure that your whole house is three-phase ready is fast becoming a sensible futureproofing measure. This is where three-phase electricity comes in.
What is Three-Phase Electricity?
Three-phase is, in simple terms, three different electricity supplies, or 'phases'.
Any single-phase equipment you have (anything that runs on 240 volts) will be connected to only one of those supplies. Potential load will be spread across the three phases by balancing appliances against one another so that there aren't too many connected to any one phase.
For all this to work, you need to make sure that your electricity system is configured correctly and you use products that are compatible.
If you're thinking of moving towards an all-electric home with heat pumps, PV panels and charging an electric car at home, you might want to consider investing in three-phase electricity to futureproof your supply.
Heat Pumps and the Renewable Heat Incentive
Running large heat pumps on single phase electricity can put a strain on your other electrical appliances sharing the same supply.
Thankfully, most manufacturers offer three-phase versions of their heat pumps, but if you're looking to invest in a heat pump then make sure it is Microgeneration Certification Scheme (MCS) certified. If it is not MCS-certified, you will not be eligible for any domestic Renewable Heat Incentive (RHI) grants.
The RHI closes for new applications on 31 March 2022 before being replaced by the Boiler Upgrade Scheme from 1 April, although it is not yet clear whether funding on the new scheme will be available for MCS-certified pumps only.
Unfortunately, there are quite a few manufacturers that did not go to the expense of getting all their three-phase heat pumps certified, as they did not foresee there being a big enough demand.
Power Requirements Could Affect Your Home Additions
Solar PV Panels
If you have photovoltaic (PV) panels installed, then the inverter that connects them to your electricity system (the device that converts the DC electricity from the panels into the AC we use in our homes) may only be single-phase.
This means that the electricity generated by the panels will only be delivered to appliances connected to the same phase, ruling out powerful vehicle chargers.
Therefore, if you have a three-phase electricity supply and you're looking to buy solar PV panels, then ensuring you have a three-phase inverter is a must. Unfortunately though not all manufacturers make them with three-phase inverters.
Solar Batteries
Many solar batteries operate on alternating current (AC), which charge up and then deliver power back to the home as required. Most such units are also single-phase and will therefore cause the same issues in relation to PV panels.
Thankfully, some manufacturers make direct current (DC) batteries that can be connected between PV panels and their inverter. These batteries have management systems built in, allowing them to recognise and store excess energy to discharge back to the inverter when the supply from the panel is insufficient.
Electric Car Charging - Three Times More Power
On average, an electric vehicle will travel about three miles/kWh charge before that energy needs to be replenished. Therefore home charging makes sense, which is why a new law requiring new build homes and buildings to have electric car charging points came in from 2022.
If you have single-phase electricity you will be limited to a charger that delivers around 7kW, meaning overnight charging will deliver a maximum of around 84kWh, which is a total range of about 240 miles. That may be fine for many, but a family with three cars will have to take it in turns to charge up, limiting them to a daily average of 80 miles each.
Three-phase electricity allows a vehicle charger to be installed that can deliver 22kW for cars that are compatible — three times more power than you'd receive with single-phase electricity.
Plan Ahead
All this can be a bit of a minefield, but if you think you will need to charge a number of cars at the same time and you want install a heat pump then it may be prudent to plan ahead.
Making sure that your whole house is three-phase ready is fast becoming a sensible futureproofing measure. If you don't, you may end up generating electricity that you cannot use while paying to import electricity at the same time.
David is a renewables and ventilation installer, with over 35 years experience, and is a long-standing contributor to Homebuilding and Renovating magazine. He is a member of the Gas Safe Register, has a Masters degree in Sustainable Architecture, and is an authority in sustainable building and energy efficiency, with extensive knowledge in building fabrics, heat recovery ventilation, renewables, and also conventional heating systems. He is also a speaker at the Homebuilding & Renovating Show.
Passionate about healthy, efficient homes, he is director of Heat and Energy Ltd. He works with architects, builders, self builders and renovators, and designs and project manages the installation of ventilation and heating systems to achieve the most energy efficient and cost effective outcome for every home.
Homebuilding & Renovating Newsletter
Get the latest news, reviews and product advice straight to your inbox.
Thank you for signing up to Homebuilding. You will receive a verification email shortly.
There was a problem. Please refresh the page and try again.