Advertisement Feature
5 Reasons Linoleum Flooring is a Good Choice for Your Home
By Sponsored Content published
Linoleum is not only a practical choice for your property, it's also beneficial to your home's health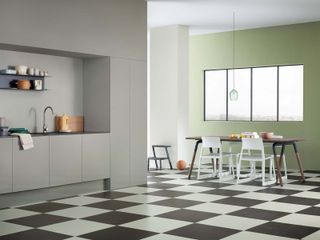 (Image credit: Bricoflor)
[Content provided by Bricoflor]
You'll undoubtedly have heard of linoleum flooring before, but how much do you actually know about it? There are plenty of reasons to consider it for your home project, from the huge variety of styles available to its green credentials.
However, did you know that linoleum flooring is a healthy option for your home too, offering benefits that preserve your indoor air quality and keep germs at bay?
What is Linoleum Flooring Made out of?
The name linoleum reflects the product's all-natural roots, coming from the Latin words "linum," meaning flax or linen, and "oleum," meaning oil. Linoleum is also easily recycled and biodegradable. Thanks to its wood components, after 25 to 40 years you can toss the material out guilt-free — take the used linoleum to an energy-recycling incineration plant or, if the discard pile is small enough, even compost it for your garden as you might do with mulch or wood chips.
However, linoleum flooring, like that available from Bricoflor, benefits don't begin and end at sustainability — it's also a healthier choice for your home. Here's what you need to know about linoleum flooring that might just change how you think about it.
1. Linoleum Flooring Doesn't Emit Harmful VOCs
The first thing to know about linoleum flooring is that it has plenty of naturally occurring advantages over many kinds of flooring. Yes, it's made of a majority of natural materials that are sourced sustainably. This means that it's an eco-friendly choice for the home, but it doesn't end there. Using natural materials ensures that this flooring doesn't emit harmful VOCs (or volatile organic compounds), which are linked to a whole host of health concerns and that many other types of flooring do to some degree.
2. Linoleum is Super Durable
Linoleum is very durable — resistant to stains and wear and tear, ensuring it can last up to 40 years with correct maintenance and care. This makes it an extremely cost-effective option for your home or workspace, as it can withstand high-traffic and still look stylish!
3. Linoleum is Easy to Care for
Since Linoleum has a reasonably smooth and durable surface, this makes cleaning and caring for it exceptionally easy. This makes it an excellent option for the home.
Linoleum flooring is also mostly water resistant, with correct installation, which makes them practically maintenance free. One thing to consider, however, is that they're not recommended for use in the bathroom. This is because the dense material of the linoleum does not allow water to dissipate.
4. It Doesn't Require Chemical Cleaners
This also means that linoleum flooring doesn't require specialist cleaning products which include chemicals that add to the mix of VOCs in your home and reduce the indoor air quality. All it requires is a sweep or vacuum and a wipe over with a mop to keep it looking its best.
5. It has Antibacterial Qualities
Linoleum also has naturally occurring antibacterial and antiseptic properties, ensuring you don't need to use harsh and harmful cleaning chemicals to keep your home healthy and free from germs.
Homebuilding & Renovating Newsletter
Get the latest news, reviews and product advice straight to your inbox.
Thank you for signing up to Homebuilding. You will receive a verification email shortly.
There was a problem. Please refresh the page and try again.