Row on Millionaire's Row as C4 star says neighbour's self build breaks planning rules
Celia Sawyer, who appeared in Channel 4's Four Rooms, lives in a £4m home in the exclusive Sandbanks area of Poole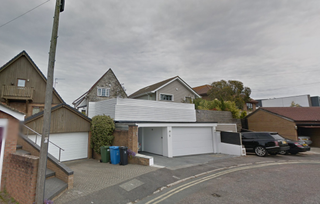 (Image credit: Google)
A Channel 4 celebrity has accused her neighbours of flouting planning rules with their balcony, leaving her "uncomfortable" when sunbathing at her £4m home in Dorset.
Celia Sawyer, who appeared in Channel 4's Four Rooms, says her neighbour Neil Kennedy did not stick to the plans when he knocked down his £2m bungalow and built a modern three-storey self build in Poole's exclusive Sandbanks.
Mr Kennedy has now applied for retrospective planning permission to allow the unauthorised alterations to his home to remain.
'Disgraceful' balcony breach leaves her 'uncomfortable'
Sawyer and her husband Nick claim Kennedy unlawfully extended the width of a first-floor balcony that now overlooks their back garden.
Sawyer, a businesswoman and interior designer, says they did not object when Kennedy first started planning building a house, the plans of which included building a balcony.
She told the Daily Telegraph: "We object to being overlooked. When I'm in my bikini I feel very uncomfortable.
"The extension of the decking covers the entire balcony, we have no privacy. He says it's only for maintenance but he can literally stand there and look into our garden, it shouldn't be allowed."
Complaints about air source heat pump on the roof
Sawyer is also unhappy about an air source heat pump on the roof of Mr Kennedy's house.
Since 2011 the installation of an air source heat pump on domestic premises falls under permitted development and does not need an application for planning permission.
However, this is dependent on certain conditions being met, including that the heat pump must be at least one metre from the property boundary, but it is believed the the heat pump for Mr Kennedy's home meets these requirements.
'Unlawful' windows look into neighbour's bedroom
The couple also claim that windows have also been unlawfully added to both sides of the new house, with one of them looking directly into the other neighbour's bedroom, breaching planning conditions.
In a letter to the council objecting to his latest retrospective planning application, Mr Sawyer said: "Initially we made no objections to the original plans submitted and approved.
"Mr Kennedy showed us his plans and assured us that he would happily abide by our wishes. We advised that the only objection would be loss of privacy and unsightly appendages to the sides of the build. We were pleased to see that the planning department shared our concerns.
"However, Mr Kennedy's actual plan was to blatantly breach the planning permission and totally disregard his previous agreement with his neighbours. My wife and I are extremely upset by Mr Kennedy's actions."
'Why do any of us bother getting planning permission if it doesn't matter?'
Sawyer highlighted that all of her neighbour's retrospective planning applications have been rejected so far, but the council had failed to actually do anything about this, claiming he should not be able to live in the home until he has approval.
Sawyer added: "Why do any of us bother getting planning permission if it doesn't matter? We're just baffled by it, it's shocking."
Mr Kennedy declined to comment on the matter, but in a letter to BCP Council, Martin Hanham, a planning consultant acting on his behalf , wrote: "I would like to point out that my client is not a builder or developer, but a retired accountant.
"He purchased [the property] some years ago as his permanent residence. After several years living at the property, he decided that it made economic sense to erect a replacement dwelling on the site.
"Having secured planning consent for the replacement dwelling, he put all the building works in the hands of a local construction company that appointed another firm of architects to deal with the building regulation application.
"My client was aware that very minor changes were made during the construction phase but he was not aware as to whether any form of planning consent was required, and if so, whether such consents had been secured."
Get the Homebuilding & Renovating Newsletter
Bring your dream home to life with expert advice, how-to guides and design inspiration, direct to your inbox.
Sam is based in Coventry and has been a news reporter for nearly 20 years. His work has featured in the Mirror, The Sun, MailOnline, the Independent, and news outlets throughout the world. As a copywriter, he has written for clients as diverse as Saint-Gobain, Michelin, Halfords Autocentre, Great British Heating, and Irwin Industrial Tools. During the pandemic, he converted a van into a mini-camper and is currently planning to convert his shed into an office and Star Wars shrine.