Planning Reforms Fail to Protect Wildlife, Charity Warns
The government's planning reforms need to do more to preserve nature, as an analysis finds the new measures will damage green spaces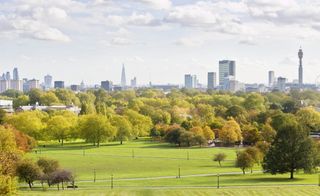 (Image credit: Getty Images)
A wildlife charity has warned the government that its planning reforms threaten to put the UK's wildlife at risk, and has called for a new wildbelt designation to provide protection for nature.
The government's sweeping planning reforms, which came into effect at the end of August, have been mired in controversy. There is an ongoing legal challenge about the extension of Permitted Development rights, while a Lords Committee report this week raised concerns that the reforms could lead to increased levels of low-quality housing.
Now the government faces criticism for failing to protect wildlife and not providing enough green spaces - a significant claim, especially as a recent YouGov poll found that 19% said access to green spaces had become more important during the pandemic.
The criticism stems from the government's proposal that land should be split into three designations:
new development
existing areas for expanding development
protected areas (including green belt, areas of outstanding natural beauty and wildlife sites).
New analysis from charity The Wildlife Trusts suggests that these designations risk isolating nature in small pockets, and propose a new wildbelt designation should be added to protect green spaces for future generations.
"These plans divide the country up into three big blobs. It's siloing nature, saying nature is over there. But all the evidence is that nature needs to be everywhere," said Craig Bennett, chief executive of The Wildlife Trusts.
The analysis also showed that the proposed planning changes will damage nature, increase air pollution, lead to increased low-quality housing in the countryside, and give local people less control over developments in their area and protecting wildlife.
How Can Wildbelts be Integrated into Planning Reforms?
The wildbelt designation would mean land that is of low biodiversity value could be designated for the recovery of nature.
Bennett explains that this would work by taking a piece of land which is low on biodiversity, such as a river valley or roadside embankment, and giving it wildbelt status to help it recover.
The charity says this new designation must reach every part of England to address the climate and biodiversity emergency facing the country.
"The science is very clear. We desperately need to keep the nature we've got and we can't afford to lose any more," said Bennett.
"We need to make more space for nature and put it in recovery if we are going to have any hope of reversing appalling decline in recent decades."
Homebuilding & Renovating Newsletter
Get the latest news, expert advice and product inspiration straight to your inbox.
Thank you for signing up to Homebuilding. You will receive a verification email shortly.
There was a problem. Please refresh the page and try again.