Planning News: Automatic Permission for New Homes Must Not Affect Quality, Experts Warn
The government's radical planning reforms begin this week, which will grant automatic permission for new homes to be built in England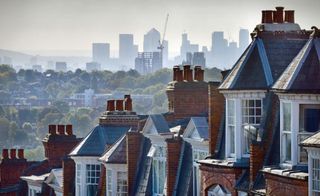 (Image credit: Getty Images)
The reforming of the planning system by the government must not lead to a reduction in quality homes, industry experts have warned. 
On Sunday, housing secretary Robert Jenrick announced that the government will grant automatic planning permission for new homes to be built in England as part of sweeping planning reforms in England.
The announcement follows Prime Minister Boris Johnson's pledge to Build, Build, Build in June, revealing that the government will introduce the most radical reforms of the planning system since the end of the Second World War.
Mr Jenrick said that this shake-up of the planning system is a once in a generation chance to build the homes that families need. Hospitals, schools and shops will also receive automatic permission. 
Under new rules, land will be designated into three categories:
Land for growth - new homes will be built automatically, if the council judges there is a need for it
Land for renewal areas - in mostly existing urban areas, plans will get 'permission in principle' to make it faster for new housing developments to be built
Land for protection - new development on areas of outstanding natural beauty and the green belt will be banned
The changes are expected to be brought forward this week, but will not affect the devolved administrations in Scotland, Wales and Northern Ireland.
In response, Brain Berry, chief executive of the Federation of Master Builders (FMB) stated that increased speed must not come at the expense of decreased quality.
"New measures that make the planning system quicker and more affordable are welcome but it is vital that high standards in design and build are not compromised as a result, and that any overhaul doesn't in fact add further delays," he said.
Will Planning Changes Affect Self Builders?
Mr Jenrick is expected to disclose more detail on the reforms this week, but it is currently unclear whether these reforms will apply to self builds. 
In March, when the housing secretary first announced sweeping reforms to the planning system would come into effect, he pledged new support for community and self build housing schemes, including support for finding plots of land, but the details have yet to be fleshed out. 
Should these new reforms apply to self build homes, it could mean that any self plots within land for growth areas could automatically receive planning permission. This is a prospective game changer for those hoping to build their own homes, and could see more self build plots coming to market, too.
Mr Jenrick is also expected to elucidate on the planned changes for Permitted Development rights to be extended in September to enable homeowners to add up to two additional storeys to their home through a fast-track approval process.
(MORE: 20 Things You Can Do Without Planning Permission)
Transforming the Planning System
Mr Jenrick has said that the country's planning system is outdated and cumbersome, claiming that it takes around five years for a standard housing development to pass through the planning system.  
Homeless charity Shelter has previously reported that 280,000 homes received permission in England between 2011-2016 but were never built. However, BBC Reality Check highlighted in June that many developers secure planning permission and then do not immediately build. 
Local Government Association (LGA) chairman Councillor James Jamieson has stressed that the planning system is fit for purpose, and should not be sidelined to help fast-track homes. 
"Any suggestion that planning is a barrier to house building is a myth. Nine in 10 planning applications are approved by councils, while more than a million homes given planning permission in the last decade have not yet been built," he said. 
"We all want great communities. The planning system needs to be able to ensure developments are of a high standard, are built in the right places, include affordable homes, and are supported by infrastructure that provides enough schools, promotes greener and more active travel, and tackles climate change."
Homebuilding & Renovating Newsletter
Get the latest news, reviews and product advice straight to your inbox.
Thank you for signing up to Homebuilding. You will receive a verification email shortly.
There was a problem. Please refresh the page and try again.