Open Letter Calls for Government to Cut VAT on Retrofits
Boris Johnson has been encouraged to slash VAT on retrofits from 20% to zero, to help support economic recovery and meet climate targets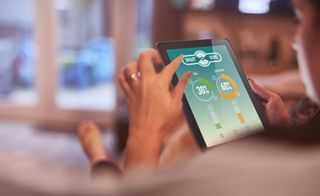 (Image credit: Getty Images)
Leading architects have written an open letter to Prime Minister Boris Johnson to initiate a mass retrofit of homes and buildings to make them more energy efficient.
The open letter, signed by Architects Direct, Architects' Climate Action Network (ACAN) and the London Energy Transformation Initiative (LETI), also supports the growing call for VAT to be cut to zero on retrofits.
Retrofitting a home helps to improve its energy efficiency through new technology or features. This process differs to renovating a house or making home improvements designed to make a home more aesthetic.
VAT on retrofits is currently 20%, and the authors of the open letter state that cutting the tax would help kick-start the economic recovery, whilst also greening up the existing housing stock.
(MORE: Retrofit Central Heating)
With the UK economy reeling from the Covid-19 pandemic, the authors have highlighted the importance of transforming the build process in the UK.
The authors wrote: "We write to offer practical ideas and expertise to support an economic recovery that protects public health and addresses climate targets. Transforming the built environment, which accounts for 40% of our greenhouse gas emissions, will be a crucial part of that process."
As well as cutting VAT on retrofits, the authors recommended that the construction industry should implement the following changes:
Require all new buildings to be built to a stringent and measurable standard that delivers positive impacts in terms of carbon, biodiversity, water, and wellbeing
Many resources are artificially cheap but harm the environment through increasing the demand on energy production and contributing to global warming. Factor in these costs through progressive taxation to boost emerging industries that produce zero carbon and non-toxic materials.
Earlier this week The Sunday Times reported that chancellor Rishi Sunak was considering temporarily cutting VAT to 17% to ease pressure on the economy. Hospitality and tourism are among the sectors to prospectively benefit from tax cuts, but it is unclear whether these cuts will extend to construction and retrofitting buildings.
Green Alliance, the Federation of Master Builders and the Royal Institute of Chartered of Surveyors have all campaigned in recent months for the government to cut this tax, to a maximum limit of no more than 10%.
Homebuilding & Renovating Newsletter
Get the latest news, expert advice and product inspiration straight to your inbox.
Thank you for signing up to Homebuilding. You will receive a verification email shortly.
There was a problem. Please refresh the page and try again.