This New Air Source Heat Pump Could Slash Installation Costs
By Jack Woodfield published
Two new air source heat pumps are to be launched in the UK which could be easier and cheaper to fit in homes with existing gas boilers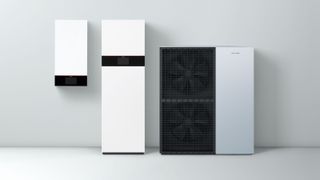 (Image credit: Viessmann)
A new space-saving, high-temperature heat pump has been developed to make it faster and simpler to replace your gas boiler.
Viessmann has launched two new high temperature air source heat pumps that have a maximum flow temperature of 70°C (at an outside temperature down to -10°C) and can, in most cases, use existing radiators – without the need for new emitters to be installed – Viessmann says.
The wall-mounted Vitocal 150-A and floor-standing Vitocal 151-A are new-generation monobloc heat pumps which the manufacturers say will take up 60% less space in the home compared to other heat pumps on the market. This is because components which usually have to be installed separately, including the buffer tank and expansion vessel, are now integrated in the indoor unit (IDU).
Moreover, not having to install these previously separate system elements will reduce installation time by two hours, Viessmann says.
"When the time comes for homeowners to replace their boilers, more are now looking for renewable alternatives. The Vitocal 150-A and 151-A air source heat pumps help answer this growing need," says Darren McMahon, marketing director at Viessmann.
"The end-user gets an efficient, environmentally-friendly solution that delivers heat like a boiler; the engineer gets a unit that's much easier and faster to install. Having fewer pieces of equipment has cut the time needed for installation by 90 minutes."
Benefits of High Temperature Heat Pumps
High temperature heat pumps can achieve operating temperatures of between 60-80°C, which is the same high temperatures usually associated with boilers. As such, one of the main benefits of these heat pumps is that you may not need to install new radiators when swapping a gas boiler for a heat pump.
In comparison, many conventional heat pumps are designed to operate at 44-55°C, and can comfortably heat our homes. But new lower temperature radiators or underfloor heating might be required before installing an air source heat pump in existing homes, which can be a disruptive task.
High temperature heat pumps don't tend to have the same efficiency as boilers, however.
The Vitocal 150-A and 151-A go on sale in the UK in May. Installation training courses for these new products are available now through the Viessmann Academy.
If you're looking to install a new heat pump then you may be interested in the Boiler Upgrade Scheme which launched in April. The scheme will provide eligible homeowners with government grants of £5,000 for the purchase of air source heat pumps and biomass boilers, and grants of £6,000 for ground source heat pumps.
Jack has worked in journalism for 11 years and is the News Editor for Homebuilding & Renovating, a role he has had since 2019. He strives to break the most relevant and beneficial stories for self builders, extenders and renovators, including the latest news on the construction materials shortage and hydrogen heating. In 2021 he appeared on BBC's The World at One to discuss the government's planning reforms.
He enjoys testing new tools and gadgets, and having bought his first home in 2013, he has renovated every room and recently finished a garden renovation.
Homebuilding & Renovating Newsletter
Get the latest news, reviews and product advice straight to your inbox.
Thank you for signing up to Homebuilding. You will receive a verification email shortly.
There was a problem. Please refresh the page and try again.