New rules in Scotland would ban boilers in new homes from early next year
The Scottish Government is introducing regulations to stop the installation of gas boilers in new build homes in an effort to reduce carbon emissions from heating systems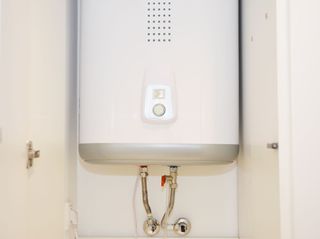 (Image credit: Getty)
New rules proposed by the Scottish Government will prevent new buildings from having gas boilers installed from as early as next year.
The proposals would prevent the use of heating systems which produce "more than a negligible level of greenhouse gas emissions".
The rules will come into effect from April 2024 if they are passed and will apply to homes and workplaces.
The UK has seen a spike in the uptake of air source heat pump installations as stricter legislation for boilers looms.
Heating a 'huge contributor to carbon emissions'
Green co-leader and minister for zero carbon buildings Patrick Harvie said the proposed rules pushing people towards instead installing air source heat pumps are "essential to deliver our commitment to make buildings zero carbon by 2045".
He told The National: "Along with transport, heating Scotland's homes and buildings is one of the biggest contributors to our carbon emissions and we know we have to take bold action to meet our climate obligations.
"These regulations will mean that direct emissions heating systems – like gas boilers – will no longer be installed in new homes and non-domestic buildings. Instead, they will be replaced by climate-friendly alternatives like heat pumps and heat networks.
"This change is essential to deliver our commitment to make buildings zero carbon by 2045. It will also mean that people who buy new homes will know that their home is future-proofed against the need to have to switch heating systems in the future."
What is the Scottish government's boiler ban plan?
The Scottish government has introduced a 'Heat in Buildings' strategy that sets out the nation's vision for the future of heat in buildings.
Its stated aim is that by 2045 Scottish homes and buildings are "cleaner, greener, and easy to heat, with homes and buildings no longer contributing to climate change as part of the wider just transition to net zero".
The plan also brings in statutory fuel poverty targets requiring that in 2040 no more than 5% of households are fuel poor and no more than 1% are in extreme fuel poverty.
When will England ban boilers in new homes?
England and Wales are set to ban gas boilers after 2025, but this only applies to newbuild properties – there are no plans to phase out gas boilers in existing homes.
The Boiler Upgrade Scheme (BUS) grants households £5,000 to help switch from a gas boiler to a low-carbon heat pump and is designed to help homeowners in England and Wales afford the upfront costs of installing a heat pump.
The £450m policy provides homeowners with grants of £5,000 to have air source heat pumps installed, and £6,000 for ground source heat pumps. However, the Lords Climate Change Committee described the scheme as "seriously failing" because of the low uptake of heat pump grants.
The Committee on Climate Change (CCC) said around 14% of the UK's carbon emissions comes from heating our homes and the Boiler Upgrade Scheme will be a key driver to help the UK reach its net zero targets of 2050. It is hoped it will help ensure all new heating system installations will be low carbon by 2035.
Get the Homebuilding & Renovating Newsletter
Bring your dream home to life with expert advice, how-to guides and design inspiration, direct to your inbox.
Sam is based in Coventry and has been a news reporter for nearly 20 years. His work has featured in the Mirror, The Sun, MailOnline, the Independent, and news outlets throughout the world. As a copywriter, he has written for clients as diverse as Saint-Gobain, Michelin, Halfords Autocentre, Great British Heating, and Irwin Industrial Tools. During the pandemic, he converted a van into a mini-camper and is currently planning to convert his shed into an office and Star Wars shrine.