Heat Pump Grants: Where to Access Financial Support
By Jack Woodfield published
Heat pump grants are available now across the UK to help you afford the cost of installation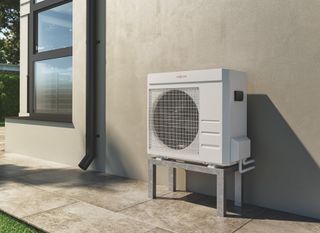 (Image credit: Viessmann)
Heat pump grants are available across the UK to help homeowners afford the upfront costs of installation and can make a big difference to those looking to switch to renewable energy.
Heat pumps and other low-carbon heating systems such as biomass boilers and solar thermal panels can help to lower long-term energy bills, compared with natural gas boilers, but they tend to cost more to install.
Air source heat pumps can cost up to £14,000 to install, while ground source heat pumps cost up to £15,000 depending on size and brand.
This is why the government announced the forthcoming Boiler Upgrade Scheme this month, which will provide eligible homeowners with grants up to £6,000 for heat pumps.
Most homeowners will be eligible for at least one type of heat pump grant. Financial assistance in the form of grants and loans can therefore help homeowners make the switch, lower their carbon emissions, and it also helps the government in its push towards net zero emissions by 2050.
Take a look at which grants are currently available, or will be available soon, to see how much funding you could be eligible for.
Boiler Upgrade Scheme to Offer Heat Pump Grants
The Boiler Upgrade Scheme was a key announcement within the government's Heat and Buildings Strategy this month.
A renaming of the Clean Heat Grant, the Boiler Upgrade Scheme will launch in April and enable homeowners to apply for grants of £5,000 for the purchase of air source heat pumps (ASHP) and biomass boilers, and grants of £6,000 for ground source heat pumps (GSHP).
It is expected to have the capacity to offer 90,000 heat pumps to homeowners in England and Wales
Full details of how to apply will be released next year.
Renewable Heat Incentive
The Renewable Heat Incentive (RHI) is a government scheme which rewards homeowners who generate and use renewable heating systems to heat their homes.
Launched in 2014, the RHI pays back the difference in capital cost to install your renewable heating system (against a conventional heating technology) with quarterly payments over a seven-year period.
The amount of payment is calculated according to the heat requirements of your home and the efficiency of the heating system.
The RHI is set to end in 2022, when it will be replaced with the Boiler Upgrade Scheme, but applications are still open until 31 March 2022 for all eligible technologies and installations.
The Green Homes Grant
Now no longer accepting applications, the Green Homes Grant ran from September 2020 to March 2021, and under the scheme most homeowners were eligible to apply for vouchers up to £5,000 to install heat pumps.
Reports suggest however that the government might reboot the Green Homes Grant, which could be announced in the autumn Spending Review.
Heat the Street
A UK first renewable heating project, Heat the Street will encourage people in Stithians Village in Cornwall to switch to ground source heat pumps.
Kensa Utilities, which has been awarded a £6m grant by the European Regional Development Fund (ERDF) to part-fund the project, is now looking for 175 private households in Stithians who want to be part of the project.
Successful applications will switch to a new renewable heating system worth around £20,000 per household, complete with a ground source heat pump, radiators, hot water cylinder and smart thermostat. You can register your interest here.
What About Outside of England?
There are alternative sources of support available across the UK:
Live in Northern Ireland?
In Northern Ireland we'd recommend contacting NI Energy Advice for advice on heat pump grants
Home Energy Scotland
Scottish homeowners can use Home Energy Scotland to get an interest-free loan from the Scottish government to pay the upfront costs of air source heat pumps and ground source heat pumps.
Warmer Homes Scotland
A similar scheme, Warmer Homes Scotland is designed for low-income households and vulnerable people who can apply for grants for heat pumps and other energy-efficient home improvements.
Wales: Nest
Low-income households in Wales and people with certain health conditions can apply to the Nest scheme to get help with heat pump installation costs.
Jack is News Editor for Homebuilding & Renovating, and strives to break the most relevant and beneficial stories for self builders, extenders and renovators, including the latest news on the construction materials shortage and planning reforms. Having bought his first home in 2013, he and his wife have renovated almost every room and recently finished a garden renovation.
Homebuilding & Renovating Newsletter
Get the latest news, reviews and product advice straight to your inbox.
Thank you for signing up to Homebuilding. You will receive a verification email shortly.
There was a problem. Please refresh the page and try again.