New Home Office and Home Living Requirements to Drive 'Age of Nesting', Report Says
By Jack Woodfield published
As many of us created home offices during the pandemic, a recent report suggests a new era of innovations for homeowners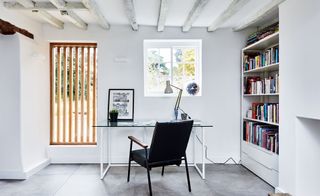 (Image credit: Simon Maxwell)
From home offices to home schooling, lockdown has fundamentally changed our living spaces, and a new report predicts the long-term impact of Covid-19 on our homes.
These new trends include a rise in eco-friendly products and appliances, an increase in innovations designed to improve home office design, and home improvements designed to reduce exposure to viruses.
Furthermore, homes will adapt to become 'blended spaces', so homeowners can fluidly move between work, rest and play, better utilising space.
'The Age of Nesting' , which refers to our newfound reliance on our homes, is a new report from home appliance brand Beko, in collaboration with The Future Laboratory, which reviews the life-changing impact of Covid-19.
"The home has played a pivotal role in the recent global crisis, forced to double as an office, school, gym, restaurant or even a healthcare setting, our homes have become the front line of our external lives," says Chris Sanderson, co-founder of The Future Laboratory.
"And the legacy of lockdown, combined with new behavioural shifts, will have fundamentally transformed where we live, how we live, and the homes we live in."
(MORE: 12 Home Office Design Ideas)
Rise in Home Office Innovations
A review of Google Search Trends data earlier this year revealed a 410% increase in searches for 'home office ideas', as many of us adapted our surroundings to help us work comfortably at home.
In the report, the authors refer to innovations made during this period to ease the transition, and say innovation will be pivotal given the possibility that working from home will, or already has, become a long-term solution for many.
"This change was initially assumed to be temporary, but the signs now point to a permanent alteration of the working landscape," the authors say.
"There are even more profound changes on the horizon for the world of work, as businesses and innovators grapple to recreate at home the collaboration, fruitful chance encounters and social elements that traditional office culture can offer."
Homes Will Maximise Hygiene
The authors also point to what they call 'pandemic-proof living' - where homeowners will want to adapt their homes to have a reduced exposure to viruses and to maximise personal hygiene.
"Customers are aware of the link between human health, the pandemic, and environmental degradation and will embrace brands and companies who are committed to improving the eco-credentials of their products and appliances," say the authors.
"All such innovations will be produced with longevity and sustainability in mind. Just like the vanity room – a place to wash your hands when entering the home which developed in the wake of the Spanish flu – houses will have entrances where decontamination can take place as you move from the outside world to your inner sanctuary."
The researchers claim that the Age of Nesting will be in full flow by 2030, and say where we live, how we live, and the homes we live in will have significantly transformed.
Jack has worked in journalism for 11 years and is the News Editor for Homebuilding & Renovating, a role he has had since 2019. He strives to break the most relevant and beneficial stories for self builders, extenders and renovators, including the latest news on the construction materials shortage and hydrogen heating. In 2021 he appeared on BBC's The World at One to discuss the government's planning reforms.
He enjoys testing new tools and gadgets, and having bought his first home in 2013, he has renovated every room and recently finished a garden renovation.
Homebuilding & Renovating Newsletter
Get the latest news, reviews and product advice straight to your inbox.
Thank you for signing up to Homebuilding. You will receive a verification email shortly.
There was a problem. Please refresh the page and try again.