Microwave Boilers Could Offer Heat Pumps Alternative for Decarbonising Homes
By Jack Woodfield published
The first-ever microwave boiler reportedly has an overall energy efficiency of 96%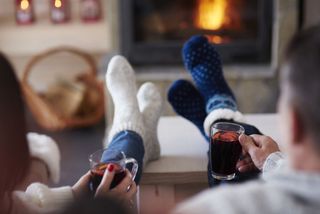 (Image credit: Getty Images)
The creators of the world's first microwave-powered boiler say the technology could help to cut emissions from home heating, and could directly replace existing gas boilers.
Around 14% of the UK's carbon emissions comes from heating our homes, and the government is exploring methods to ensure the UK reaches net zero emissions by 2050.
Gas boilers will be banned in new-build homes from 2025, before being phased out entirely by the mid 2030s, while heat pumps and hydrogen heating are two low-carbon options being assessed by the government to help decarbonise existing homes.
However, heat pumps won't be suitable for every household, and the costs of producing green hydrogen mean supply could be limited. Heat Wayv, the UK-based creators of the microwave boiler, therefore believe this new technology could offer an alternative.
"As the UK and the world moves to renewable energy, we need to have appliances that are zero-emissions in the home, but also connected so that the devices can work intelligently with the grid," said Paul Atherton, co-founder of Heat Wayv.
(MORE: Which is cheaper: Hydrogen boilers or heat pumps?)
How Efficient are the Microwave Boilers?
Heat Wayv says its microwave-powered boilers have an overall energy efficiency of 96%, which are 84% efficient in converting electricity into hot water, while another 12% of waste heat is recycled.
The boilers are produced by solid-state components – electronic components that rely on the controlled flow of electric charges, which can be tuned specifically to heat water.
While they are not able to provide instant hot water, as gas boilers can, they compensate for this via a hot water storage tank inside the unit. Then the water can then be pumped through to existing radiators and taps, showers and baths.
Heat Wayv is developing two boilers: the Heat Wayv One for smaller households, which is equivalent in size to a standard gas boiler; and the Heat Wayv Max, for larger households, which is the size of a standard single double-height kitchen unit.
Low-Carbon Heating Systems: Cost Comparison
A Heat Wayv microwave boiler suitable for a three or four-bedroom house would cost around £3,500 to buy and install, The Guardian reports.
At face value, this would be considerably cheaper to install than a heat pump: an air source heat pump can cost upwards of £11,000 to install, while a ground source heat pump can cost more than £15,000.
As yet, hydrogen boilers are not yet available to purchase, but Boiler Guide estimates that pricing would be similar to natural gas boilers - somewhere between £400 to £3,000 before factoring in the installation.
Baxi Heating and Worcester Bosch are currently trialling working prototypes of their hydrogen boilers, and they share a benefit with microwave boilers: they will be easy to replace gas boilers in existing properties.
It is unclear, however, what the long-term costs of the microwave boiler would be, and how much electricity would be required in comparison to that of a heat pump. Meanwhile, we know that a ground ground source heat pump costs between £540 and £700 per year to run, and an air source heat pump costs between £700 and £1,050 per year to run.
Heat Wayv initially plans to target the 170,000 new homes built each year from 2025 which will require an alternative to gas boilers. It expects to trial the boilers in homes by the end of 2022, with the first sales to customers targeted for 2024.
Jack has worked in journalism for 11 years and is the News Editor for Homebuilding & Renovating, a role he has had since 2019. He strives to break the most relevant and beneficial stories for self builders, extenders and renovators, including the latest news on the construction materials shortage and hydrogen heating. In 2021 he appeared on BBC's The World at One to discuss the government's planning reforms.
He enjoys testing new tools and gadgets, and having bought his first home in 2013, he has renovated every room and recently finished a garden renovation.
Homebuilding & Renovating Newsletter
Get the latest news, reviews and product advice straight to your inbox.
Thank you for signing up to Homebuilding. You will receive a verification email shortly.
There was a problem. Please refresh the page and try again.