Landmark Air Pollution Ruling Highlights Importance of Good Home Ventilation
By Jack Woodfield published
Air pollution has been listed as a cause of death for the first time in the UK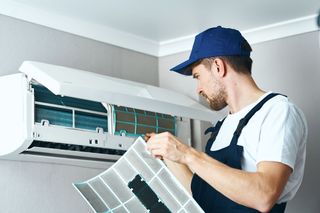 (Image credit: Getty Images)
A groundbreaking ruling that air pollution caused a nine-year-old's death has highlighted the dangers of everyday exposure to pollution (specifically traffic fumes), and how important it is to ensure effective ventilation in our homes.
Ella Kissi-Debrah's death in February 2013 was ruled by Southwark Coroner's Court to have been caused by acute respiratory failure, severe asthma and air pollution. It is the first time in the UK that air pollution has been listed as a cause of death.
This tragic case highlights the potential dangers of air pollution, and while it is difficult to control our exposure outdoors, there are things we can do to ensure good air quality in our homes.
Reducing Air Pollution at Home
Effective ventilation is essential for a healthy home, and can help to prevent problems such as condensation and mould which can consequently result in health issues.
Mechanical Ventilation with Heat Recovery
Mechanical Ventilation with Heat Recovery (MVHR) is a particularly effective way of achieving good ventilation because it removes pollution from the air.
MVHR systems, suitable only for airtight homes, work by extracting stale air from a room and replacing it with a similar volume of fresh air, making MVHR beneficial for people with allergies.
They can also help you save on your heating bills, which will have a direct relationship to the airtightness of the building. At 3m³/hr/m² airtightness, you could see savings up to 20%.
Other Ways to Ensure Good Air Quality
If an MVHR system isn't right for your home, you can find other ventilation systems to improve your air quality. These include positive input ventilation (PIV) and mechanical extract ventilation (MEV).
PIV is primarily for existing homes with a loft space. It works by gently supplying fresh, filtered air into your home from a unit installed in your loft, and via a distribution diffuser mounted in the ceiling.
MEV systems work in a different way. Stale or moist air is extracted from points of high humidity such as the bathroom or kitchen, and fresh air is evenly drawn into your home through the envelope of the building.
Government Challenged Over Verdict
A 2018 report detected unlawful levels of pollution one mile from Ella's home, which contributed to her fatal asthma attack. Now, campaigners are urging the government to take positive action to ensure the air we breathe is clean.
The British Safety Council has urged the Government to enshrine into UK law, the World Health Organisation (WHO) exposure limits for the main air pollutants of nitrogen dioxide, particulate matter (PM) and ozone.
Responding to the verdict, a government spokesman said: "We are delivering a £3.8bn plan to clean up transport and tackle NO2 pollution and going further in protecting communities from air pollution."
Jack has worked in journalism for 11 years and is the News Editor for Homebuilding & Renovating, a role he has had since 2019. He strives to break the most relevant and beneficial stories for self builders, extenders and renovators, including the latest news on the construction materials shortage and hydrogen heating. In 2021 he appeared on BBC's The World at One to discuss the government's planning reforms.
He enjoys testing new tools and gadgets, and having bought his first home in 2013, he has renovated every room and recently finished a garden renovation.
Homebuilding & Renovating Newsletter
Get the latest news, reviews and product advice straight to your inbox.
Thank you for signing up to Homebuilding. You will receive a verification email shortly.
There was a problem. Please refresh the page and try again.