Heat Pumps Demand Has Increased by 312%, Research Shows
By Jack Woodfield published
Demand for heat pumps and insulation has soared as homeowners try to navigate spiralling energy price rises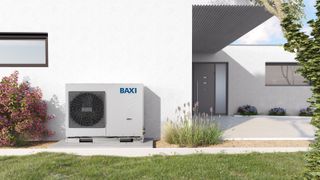 (Image credit: Baxi Heating)
Demand for heat pumps has shot up by 312% since the beginning of 2021, new research reveals.
Rated People, a platform which connects homeowners with local tradespeople, has released new data which reveals the acceleration in demand for energy-efficient home improvement jobs in 2021, compared with one year prior.
Not only did demand for air source heat pumps and ground source heat pumps surge in 2021, but Rated People told The i that demand increased by 20% in January 2022 compared to January 2021, with homeowners striving to combat spiralling energy prices.
Energy price rises have hit millions of homeowners following Ofgem's 54% rise to the Energy Price Cap this month, and heat pumps are a low-carbon heating system that can help homeowners save on their long-term heating bills. Moreover, the Boiler Upgrade Scheme which launched this month will soon allow for applications to get up to £6,000 off the cost of installing a heat pump.
Roof insulation was the eco installation which experienced the biggest increase in demand from homeowners, a rise of 419% in 2021. This was followed by electric car charging points (404%) and cavity wall insulation (352%).
Eco Plans for One in Two Homes
Alongside the 2021 increase in demands for eco improvements, Rated People has revealed that 52% of homeowners want to make their homes more environmentally friendly this year to save on their energy bills.
Very efficient heat pumps could save homeowners £260 on their yearly bills, but the number one eco improvement that homeowners most want this year is a smart meter to help manage their energy usage. One in five homeowners said they planned to install one this year.
Adrienne Minster, CEO of Rated People, said: "Awareness around the importance of living more sustainably has never been higher, and it's brilliant to see homeowners looking for ways to reduce their impact on the planet by making their homes more environmentally friendly.
"From smart meters to extra insulation, there are lots of things you can do to increase your home's green credentials that will suit all budgets, including things you can do for free such as making your own compost which disposes of waste and improves the soil in your garden."
Installing solar panels was revealed by Rated People to be the eco upgrade which can add the most value to your home (£13,512), followed closely behind by wind turbines and triple glazing.
The top 15 eco home improvements that are most valued by buyers are:
1. Solar panels - £13,512 (value increase)
2. Wind turbine – £12,941
3. Triple glazing - £12,788
4. Underfloor heating - £12,290
5. Ground source heat pump - £12,251
6. Double glazing - £12,005
7. Extra insulation, like cavity wall insulation - £11,764
8. Biomass boiler - £11,756
9. Air source heat pump - £11,670
10. Solar water heating - £11,646
11. Electric car charging point - £11,538
12. Green/living roof - £11,477
13. Biodiverse garden – £11,444
14. Old appliances replaced with new ones - £11,190
15. Draught proofing - £11,151
Jack has worked in journalism for 11 years and is the News Editor for Homebuilding & Renovating, a role he has had since 2019. He strives to break the most relevant and beneficial stories for self builders, extenders and renovators, including the latest news on the construction materials shortage and hydrogen heating. In 2021 he appeared on BBC's The World at One to discuss the government's planning reforms.
He enjoys testing new tools and gadgets, and having bought his first home in 2013, he has renovated every room and recently finished a garden renovation.
Homebuilding & Renovating Newsletter
Get the latest news, reviews and product advice straight to your inbox.
Thank you for signing up to Homebuilding. You will receive a verification email shortly.
There was a problem. Please refresh the page and try again.