Very Efficient Heat Pumps Could Cut £260 off Your Energy Bills
By Jack Woodfield published
Replacing natural gas boilers with a very efficient heat pump could be cost-effective with gas prices set to soar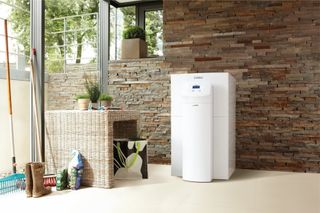 (Image credit: Vaillant)
Switching to a very efficient heat pump could save some homeowners around £260 on their yearly energy bills, new research suggests.
Air source heat pumps and ground source heat pumps are set to become popular alternatives to natural gas boilers, and the government is aiming to roll out 600,000 heat pumps per year into homes by 2028.
Compared with natural gas boilers, heat pumps significantly reduce carbon emissions, and despite high installation costs, they can help to lower running energy costs.
And with energy price rises set to impact hundreds of thousands of homeowners from April – following Ofgem's confirmation that average energy bills will increase by £693 – finding ways to lower your energy bills could be crucial in the months ahead.
How Would You Save £261 a Year?
The Regulatory Assistance Project (RAP), a Brussels-based non-profit specialising in the environmental impact of natural gas and power, says that those who switch from a gas boiler to a very efficient heat pump could save £261 per year.
This finding is based on an analysis of running costs comparing heat pumps and gas boilers, and based on Ofgem's Energy Price Cap announcement that the maximum unit costs for gas will increase by 84% and electricity by 35% in April.
"Electricity prices will be four times higher than gas whereas, under the current price cap, electricity is about five times more expensive than gas. This has clearly affected the running costs of heat pumps compared to gas boilers," the RAP says.
Heating a home with a gas boiler will cost £934 per year from April, up from £579. But using a very efficient heat pump will only cost £723, up from £536. For the average household, this is a saving of £261 per year.
"Heat pumps can save consumers money if designed and installed well. This is now much more achievable with the recent change in domestic gas and electricity prices," said Jan Rosenow, an associate at Oxford University and RAP's Europe director.
For many homeowners this will, however, need to be weighed up against installation costs.
What is a Very Efficient Heat Pump?
The efficiency of a heat pump varies and depends on multiple factors, the RAP says, detailing that an important parameter is the flow temperature: the lower the flow temperature, the higher the coefficient of performance (COP).
Many heat pumps supply 3kW hours of heat using just 1kW hour of electricity, measured as a COP of three. The RAP calculations found that heat pumps with this COP measure will be cheaper to run than gas boilers.
What are the Installation Costs?
Heat pumps can cost between £6,000 and £18,000 to install, depending on size and brand. But this can rise up to £27,000 if you are replacing your entire heating system, which can require disruptive changes and fabric improvements, such as new radiators being installed.
The RAP, however, says heat pumps will become more financially attractive due to the UK government looking to shift green levies from electricity to gas.
And while installation costs could remain challenging for many homeowners, the RAP adds that "heat pumps can save consumers money if designed and installed well to achieve high enough efficiency."
Heat pump grants are available to help some homeowners afford the upfront cost of heat pumps, and the Boiler Upgrade Scheme launches in April, which will offer grants of £5,000 (for air source heat pumps) and £6,000 (for ground source heat pumps) towards heat pump installations.
Jack has worked in journalism for 11 years and is the News Editor for Homebuilding & Renovating, a role he has had since 2019. He strives to break the most relevant and beneficial stories for self builders, extenders and renovators, including the latest news on the construction materials shortage and hydrogen heating. In 2021 he appeared on BBC's The World at One to discuss the government's planning reforms.
He enjoys testing new tools and gadgets, and having bought his first home in 2013, he has renovated every room and recently finished a garden renovation.
Homebuilding & Renovating Newsletter
Get the latest news, reviews and product advice straight to your inbox.
Thank you for signing up to Homebuilding. You will receive a verification email shortly.
There was a problem. Please refresh the page and try again.