Good Grief! Is This Danger Mouse-Inspired Treehouse The Best Ever Children's Den?
By Jack Woodfield published
A tree-less timber treehouse inspired by Danger Mouse has been built in a London garden - and one specific condition helped it achieve planning permission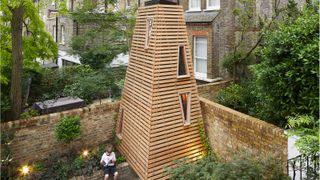 (Image credit: De Matos Ryan)
In a stunning showcase of imaginative design, an innovative tree-less treehouse influenced by the cartoon Danger Mouse has been built in the garden of a North West London townhouse.
Designed by architecture firm De Matos Ryan, the treehouse sits within a city house garden design and can only be accessed by crawling underneath it (designed to prevent adults from entering it).
It's neither short on imagination nor scale, standing 4.1m high, and the structure's unusual height and form for a rear garden meant that planning permission could only be granted providing the den had a modular design which can be easily disassembled and removed when the property is sold.
Angus Morrogh-Ryan, director of De Matos Ryan, which creates simple but imaginative contemporary environments, said: "Our client was a young family, who lamented the loss of an ailing tree in their neighbour's garden. The children longed to have a treehouse but were prevented from doing so by having no trees of their own. The brief was therefore to design a treehouse without a tree."
How it Was Built
The playhouse was designed in collaboration with the children to be the hideout of Penfold (for 90s kids who missed the 1980s original and the 2015 reboot, Penfold is the assistant and sidekick to Danger Mouse). It was built with a timber frame to be an imaginative play space which didn't create a literal representation of a tree.
The truncated pyramidal structure consists of a series of triangular Douglas fir frames, while a stainless steel cable lattice covers the timber-slatted exterior, which the studio says will encourage climbing plants to hopefully "create the sense of the tree that never was."
The playhouse has an elevated crow's nest which is accessed by a timber and rope ladder, and the children can look out through triangular windows designed to echo the structure's shape.
"The unusual form and scale of the structure provides scope for imaginative play and permissive exploration," said the studio. "At any point it can be simultaneously reminiscent of limitless dramatic inquiries such as a hollowed tree trunk, a spaceship, or a castle turret."
The structure took just one week to put together on site, having been prefabricated in pieces and carried through the house via domestic scaled doors.
Jack has worked in journalism for 11 years and is the News Editor for Homebuilding & Renovating, a role he has had since 2019. He strives to break the most relevant and beneficial stories for self builders, extenders and renovators, including the latest news on the construction materials shortage and hydrogen heating. In 2021 he appeared on BBC's The World at One to discuss the government's planning reforms.
He enjoys testing new tools and gadgets, and having bought his first home in 2013, he has renovated every room and recently finished a garden renovation.
Homebuilding & Renovating Newsletter
Get the latest news, reviews and product advice straight to your inbox.
Thank you for signing up to Homebuilding. You will receive a verification email shortly.
There was a problem. Please refresh the page and try again.