Upcycling When Renovating a House Saves Money and Protects Environment
By Jack Woodfield published
Buying pre-owned goods while renovating a house is one way of helping the environment, as well as saving money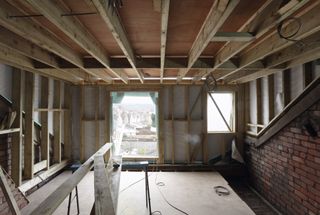 (Image credit: Getty Images)
Four in 10 people prioritise environmental factors when renovating a house, new research shows.
Homeowners are becoming more and more motivated to use environmentally-friendly and cost-effective methods when renovating, such as buying pre-owned goods and upcycling them.
The findings come from a poll of 2,000 homeowners by Used Kitchen Exchange, which strived to understand the importance of social and environmental factors when homeowners are approaching home renovations.
Why Upcycle When Renovating a House?
Buying second-hand goods prevents products from going to landfill, which has obvious benefits for the environment, but it can also help you save money.
Around 52% of respondents cited a preference for buying premium pre-owned goods when renovating - of those, 72% did so to save money and 35% did so for ethical reasons and because they prefer the quality of pre-owned pieces.
Helen Lord, founder of Used Kitchen Exchange, commented: "The market for premium used goods for home renovations is huge and is only going to get bigger. You can see this trend within the retail sector already taking hold with companies such as Selfridges, Primark and Ikea already working on their sustainability journey."
Pre-Owned Kitchen Market Growing
Used Kitchen Exchange also highlighted the benefits for homeowners looking to renovate their kitchen and opt for a premium pre-owned kitchen.
"For consumers looking to buy a new kitchen, purchasing pre-owned or ex-display is a game changer. They will be able to make savings of between 50% and 90% on a quality premium kitchen," added Lord.
"Despite this growing market, 44% of homeowners are unaware that selling their existing kitchen is an option. This is a huge missed opportunity for renovators."
The report also revealed that the sale of an unwanted premium kitchen, in preference to buying new, saves up to six to eight tonnes of carbon, equivalent to making a family of four carbon neutral for a whole year.
(MORE: How to renovate a kitchen)
Jack is News Editor for Homebuilding & Renovating, and strives to break the most relevant and beneficial stories for self builders, extenders and renovators, including the latest news on the construction materials shortage and planning reforms. Having bought his first home in 2013, he and his wife have renovated almost every room and recently finished a garden renovation.
Homebuilding & Renovating Newsletter
Get the latest news, reviews and product advice straight to your inbox.
Thank you for signing up to Homebuilding. You will receive a verification email shortly.
There was a problem. Please refresh the page and try again.