First Time Buyer Renovates Dated Terrace for Just £26k!
By Heather Dixon published
Kate Turner bought her first house and renovated it from top to bottom on a budget of just £26k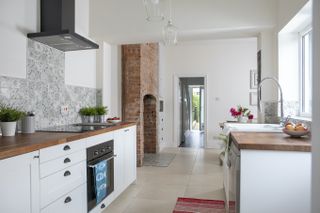 (Image credit: Dave Burton)
A neglected terraced house with a garden full of weeds, crumbling walls and time-warp interiors wasn't quite what Kate had in mind when she stepped onto the property ladder.
"I was looking for a doer-upper, but by that I meant something that needed a bit of basic TLC," says Kate. "I certainly wasn't looking for a major building project."
But, with a limited first-time buyer's budget, she found herself the proud owner of a mid-terrace, two-bedroom house that had damp issues, no central heating, ancient plumbing and a grimy pink bathroom suite.
Stripping Back to a Shell
Project Details
Homeowner: Kate Turner
Location: Hull
House cost: £115,000 (2017)
Estimated current value: £160,000
Despite her reservations, Kate got stuck into renovating shortly after she bought the house — ripping out the old kitchen and bathroom fittings and tearing up carpets to reveal lovely old floorboards.
With the help of her Dad, she decided to take our stud walls between the small dining room, kitchen and utility and remove the kitchen ceiling to create a light-filled open-plan kitchen diner. She also bricked up the back door (previously accessed through a downstairs toilet) and created a new one directly off the kitchen.
"I moved back in with my parents — there was no way I could live among the debris and dust which got everywhere. The house was a shell!"
A Steep Learning Curve
When it came to tiling the ground floor, Kate bought discontinued tiles and learned how to lay and grout them, applying the same skills to wall tiles in the kitchen area and bathroom. Upstairs, Kate and her dad took out a disused water tank, creating space for a new shower.
With the structural work coplete, Kate turned her attention to decorating. "I spent hours filling and sanding holes in the plasterwork to try and save money," says Kate. "I was on such a tight budget that every little thing counted. I managed to save and spend as I went along."
(MORE: 10 ways to renovate on a budget)
"There were certainly moments when I wanted to give up and walk away from it, and times when I just needed a break from it all but once we turned a corner and things started to come together I felt much better about the whole thing," Kate explains.
"It was exciting doing the finishing touches, which turned it from a house into a home," she says. "It was a steep learning curve but the experience has given me new skills."
Cost Breakdown
Electrics: £3,000
Plumbing: £4,000
Floors, windows and external doors: £4,500
Kitchen: £3,000
Bathroom: £2,500
Landscaping: £1,000
Building materials: £8,000
Homebuilding & Renovating Newsletter
Get the latest news, reviews and product advice straight to your inbox.
Thank you for signing up to Homebuilding. You will receive a verification email shortly.
There was a problem. Please refresh the page and try again.