What is it Really Like to Live With a Heat Pump?
By David Hilton published
Energy expert David Hilton installed an air source heat pump three years ago, a decision which gives him confidence the technology could suit most UK homes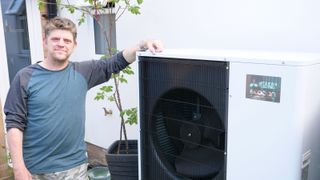 (Image credit: David Hilton)
Heat pumps have been heralded as the future of home heating, but while there are a lot of people telling us how great heat pumps are, not as many people are telling homeowners what it's actually like to live with one.
Air source heat pumps and ground source heat pumps come with a variety of pros and cons, much as gas boilers do, and choosing to opt for a heat pump is a bold decision. It can require quite significant research and preparation, but specified in the right way, they have potential to make your home cheaper and more carbon-friendly to run in the long term.
I installed a heat pump three years ago, and from the initial decision-making process to installation to adapting to the way your home is heated, this is what it's like to live with one.
When Did We First Consider Installing a Heat Pump?
We had been living in our home for nine years with an oil fired central heating system.
We are not rural, but at the time when our home was built in the 1980s our little development was equipped with electrical storage heaters. Over the years many of these homes were subsequently fitted with a wet central heating system and oil or LPG gas boilers. Ours was one such property.
When, as a family, we started to outgrow the property we went through the motions of evaluating whether it would be better to move to a bigger property or extend the existing one. Building an extension won, and as the project moved through the design stage we realised very quickly that the oil boiler would simply not be good enough for our newly enlarged home.
The other issue was that the boiler flue protruded through a wall where the new lounge would be, and the new lounge would block the route to the oil tank for refilling. If we were to keep an oil boiler then the boiler position and the tank position would need to move. These were both not easy options so what was the alternative? Yes, an air source heat pump.
Getting Our Home Ready For a Heat Pump
An air source heat pump moves heat from the air outside to your home. The water flow temperatures in the central heating circuit are a lot lower than you have with a boiler, therefore the emitters often need to be increased or you need to have underfloor heating installed.
To make an air source heat pump run efficiently you need to optimise the efficiency of the home as well, so the design stage of the project received a new injection of detail.
We looked at ways to improve our insulation and make the property more draught proof. The central heating system was inspected to make sure that the radiators were big enough for much lower flow temperatures, and that the pipework was big enough to carry enough heat.
If you have a microbore pipe (10mm – 12mm, it does not matter if it is copper or plastic) then a heat pump system can really struggle to deliver the heat. Oversized circulation pumps can be used to overcome the resistance but then there could be additional noise in the pipes, unbalanced emitters and lower efficiency due to pump power consumption.
How We Chose Our Air Source Heat Pump
The emitters were all acceptable and a heat loss calculation was done to determine the size of heat pump required. It came back at around 8kW so we selected a heat pump of around 11kW to cover the heat load when it is very cold outside.
The choice of heat pumps available is increasing every day, and there are a number of things that differentiate between different air source heat pump products.
First you have the choice of monobloc or split. A monobloc has the refrigeration plant in the box outside the property and the unit is connected back to the home via water pipes and electrical wiring. There is no refrigerant pipe. A split system has half the heat pump outside and half inside the home, with the two bits connected via a refrigerant pipe.
Monobloc units are the most common air source heat pumps in England, and that is what we chose.
Two issues I was slightly concerned about was that the outdoor fan unit may be a bit noisy in our garden, or that it had been designed to only supply heat to the central heating. As it was, the hot water is provided by a second heat pump built into the hot water cylinder, and receives air from the exhaust of the heat recovery ventilation systems. It might sound complicated but in real terms it's not: the set-up essentially comprises two different heat pumps with different refrigerant gas that behave in different ways.
The outdoor unit could potentially supply the hot water as well but we did not want it to run in summer, and we wanted to use the waste heat in the stale air in the ventilation system.
We did not want to have the outdoor heat pump run in summer because even though we have close neighbours, and it passed the noise test for planning permission, we were still sensitive that it might disturb them when all the windows are open in the summer. As it happened this unit is really quiet and we need not have worried.
How Easy Was Installation?
The ductwork for the hot water heat pump was the most tricky thing to install, but the rest of the installation went very smoothly. A solid base was built for the outside unit and the pipework was installed as new parts of the extension were completed. We then changed all the Thermostatic Radiator Valves for wireless motorised valves to provide accurate room-by-room thermostatic control.
How Has My Home Heating Changed?
We've had the heat pump for three years now, and there are a number of things that we have had to get used to. The radiators no longer become radiant hot, for example. You can hold them and you won't get burned.
The flow temperature was initially set at 48°C and dropped a few degrees in mild weather. As we got used to the system we lowered the flow temperature to 38°C and it drops to around 28°C in milder weather. You do have to get used to the fact that the heat has a much slower reaction time. As the reaction time is slower, more careful room control is required.
The different zones (rooms) are set on a schedule to not all come on at once, and we stagger the times when the rooms call for heat, thus reducing the load on the heat pump. The heat is gentle. Whether it is the rooms with underfloor heating or radiators they are all sized to run at the same temperature so they all operate on the same circuit.
As the reaction time is slower, more careful room control is required. The stored water temperature in the hot water cylinder is lower than it would be with a boiler - you would expect the water to be around 60°C to 70°C with a boiler, but a heat pump does not like to make that type of heat and many cannot get to that level without the use of a back-up electrical heater.
The temperature of a shower is around 38°C so it doesn't really matter that the water is stored at a lower temperature of around 50°C because you can use a bit more water from the cylinder and mix in less cold. This does mean, however, that you will have a slightly larger cylinder than if you had a boiler. Our cylinder is 300L rather than a 250L boiler option, but considering that Building Regulations now require your water to be no more than 48°C at the tap, the lower store temperature will make no difference.
Has the Heat Pump Been Cheaper to Run?
Initially the air source heat pump was more expensive to run than the oil boiler, but when you factor in that oil was really cheap several years ago, and we had not really got to grips with the nuances of living with a heat pump, the pendulum soon swung the other way.
Oil was 34p per litre when we put in the heat pump. You get 10 kWh per litre so that is around 4p per kWh when you factor in the boiler efficiency.
Electricity was 12p per kWh and the heat pump was only 250% efficient (when measured in the house not at the heat pump) meaning that it cost around 5p per kWh.
Now electricity is 28p per kWh so each unit of heat costs 11p but oil is now around £1 per litre so when you factor in the efficiency the cost is about the same. But, we have solar PV panels so quite a lot of the electricity, especially in the summer, is free.
What Else Did I Notice?
The heat pump has never been a noise nuisance and the temperature in the home has always been comfortable, even when there was a load of snow outside. It is, however, imperative to get the heat pump designed and installed by experienced installers who understand your home, your expectations and most of all the working habits of the heat pump.
In the three years since installing the heat pump the technology has moved on, and the new refrigerant gasses and better software - as well as our experience of having a heat pump solution in a 1980s renovated property - fill me with confidence that air source heat pumps can indeed be a successful long-term solution for most UK homes.
David is a renewables and ventilation installer, with over 35 years experience, and is a long-standing contributor to Homebuilding and Renovating magazine. He is a member of the Gas Safe Register, has a Masters degree in Sustainable Architecture, and is an authority in sustainable building and energy efficiency, with extensive knowledge in building fabrics, heat recovery ventilation, renewables, and also conventional heating systems. He is also a speaker at the Homebuilding & Renovating Show.
Passionate about healthy, efficient homes, he is director of Heat and Energy Ltd. He works with architects, builders, self builders and renovators, and designs and project manages the installation of ventilation and heating systems to achieve the most energy efficient and cost effective outcome for every home.
Homebuilding & Renovating Newsletter
Get the latest news, reviews and product advice straight to your inbox.
Thank you for signing up to Homebuilding. You will receive a verification email shortly.
There was a problem. Please refresh the page and try again.