Advertisement Feature
Transform Your Home With Cladding and Colours That Stay True
By Sponsored Content published
Give your home a bright new look with stylish, colourful and durable weatherboard cladding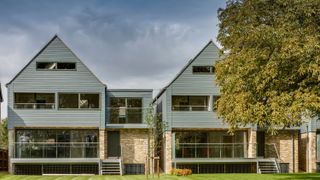 (Image credit: James Hardie)
Content supplied by James Hardie

How can you take a boring brick house and make it beautiful? Home transformation shows have demonstrated that it is possible to breathe new life into a tired façade and disguise a dated design with the application of some colourful cladding.
Whether it covers the whole of the exterior or is just used on one level to create contrast between the floors, the impact it has can be dramatic.
But the function of cladding isn't simply decorative, it is also protective, insulating and low maintenance.
Originally cladding would have been made from wood, a traditional and plentiful building material. Now cement weatherboard can produce the same classic look of overlaid planks, but they are lighter and more hardwearing, and can weather the elements while the colour remains bright.
Five Reasons to Choose Fibre Cement Weatherboard
Versatile Patterns
The fibre cement weatherboard planks can be laid horizontally, vertically and even diagonally to create arresting designs. The laying style includes traditional shiplap, where the edges of the plank overlap; open joint, with a defined gap between the planks; and hit and miss which has alternating raised and recessed planks.
Fade Resistance
As welcome as hot, sunny days might be, your enjoyment of them shouldn't be marred by seeing your cladding being damaged by the sun's ultraviolet rays. James Hardie's ColourPlus™ Technology has been engineered to provide up to 30 per cent more fade resistance than many alternative cladding finishes or coats of paint. So whatever the shade, from rich browns to classic creams, it will remain looking fresh.
Colour Consistency
Patchy paintwork can make cladding look worn and weather-battered. Multiple coats of paint applied at optimal thickness and then fully cured ensure an high quality consistent finish across all of the weatherboard, and one that will remain constant even when battered by wind, rain or frost, and resistant to being bleached by the sun.
Green Colours
Paints applied to cladding on site can be harmful to the environment if they contain VOCs (volatile organic compounds) – gases which can be released from certain household products, including paints and wood preservatives, that can pollute the air and cause health problems. However, if the colour is baked on in the factory, it is a more eco-friendly choice with no risk of VOCs. The finish also doesn't require regular repainting.
Fire Safe
Cladding can not only dramatically transform the look of your house, it can insulate it, helping to stop heat from escaping. It is also reassuringly safe in the event of a fire. The highest possible rating for coloured fibre cement cladding is A2, s1 d0. That means that it is a non-combustible cladding and will not ignite when exposed to direct flame or extreme heat, nor will it contribute fuel to a fire.
HardiePlank® Product Family
HardiePlank cladding by James Hardie® (opens in new tab) is a versatile, low-maintenance weatherboard that looks like natural cedar or larch. It comes pre-made in an array of durable, fade-resistant finishes with a choice of 21 colours and two textures (smooth and natural cedar mill). The colour is actually baked on in the factory so it won't be affected by the weather.
The new HardiePlank VL fibre cement board is an easy to fit interlock weatherboard with a chic design and timeless flat finish. Beautiful and durable, it can be installed horizontally or vertically, perfect for a contemporary design.
Available in a natural cedarmill finish, HardiePlank® VL comes in a timeless colour palette of six colours to maximize architectural features from graphic monochrome and soft pastels to muted greys.
For more information or to make an enquiry, please email info@jameshardie.co.uk



Homebuilding & Renovating Newsletter
Get the latest news, reviews and product advice straight to your inbox.
Thank you for signing up to Homebuilding. You will receive a verification email shortly.
There was a problem. Please refresh the page and try again.