Self Build Nightmares: 8 Scary Scenarios and How to Avoid Them
By Hugh Metcalf published
Trying to prevent your self build becoming a horror story? Take heed of this advice to ensure your project has a fairy tale ending instead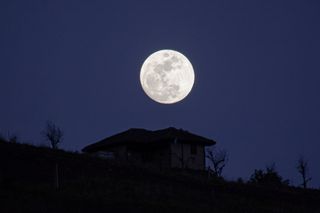 (Image credit: getty images)
After the past few years, you'd think there's not much that could strike fear in the hearts of a self builder. Managing a self build during a global pandemic, as well as dealing with the fallout of construction material shortages and a lack of skilled tradespeople, should be about as bad as things could ever get.
However, each build has the potential to lead to some scary situations (largely, for your budget) — the sort of things that are sure to keep you up at night.
We take a look at 8 would-be nightmare scenarios, and get expert advice on how to keep them simply the stuff of bad dreams.
1. Bad Weather at Crucial Stages of Your Build
Persistent bad weather and cold snaps can cause real issues for your timeline, and it's the one part of building a house that you truly have no control over, other than your choice over the time of year for key stages of your build.
The biggest problem with both rain and cold temperatures is at the building foundations stage. Heavy rain and frost can cause issues for concrete such as cracks, unevenness and delayed curing times. Keep an eye on the weather and ask the concrete layer if they are prepared for if the weather turns. Make sure tarpaulins are kept to hand if the forecast looks less than desirable.
Where else poor weather can cause delays is before the stage where you have a weathertight shell, so the quicker you get to this stage the better. This is where options like off-site fabrication can be a real benefit.
"You go from having a site down at foundation level to having a fully grown wind and watertight shell seemingly overnight. That's an appealing prospect for many of us, particularly on winter builds where the weather is poor and the days short," says building expert Mark Brinkley.
2. Your Tradespeople Don't Turn up
There are plenty of reasons that your tradespeople might not turn up for the job — some of those reasons will be more legitimate than others. The right materials not arriving in time, broken equipment, bad weather and illness are all common offenders, and that's before we get into COVID-19 related problems.
In some instances, this can be a major disaster, and mean your trades go out of sequence. There are some jobs that need to be completed before others can be, and the knock on effect can mean a lot of work to re-arrange your schedule.
Your best bet to avoid this happening is to create a schedule of works with breathing room in the timeline. Having tradespeople back to back is inevitably going to cause issues, as delays can occur for all kinds of reasons.
(MORE: An Example of a Typical Self Build Schedule)
"For successful site management good communication is key and you need to strike the right balance between being too authoritarian and too easy-going," says chartered surveyor Ian Rock. "Keeping a daily site log can be useful for resolving any disputes that later flare up. Above all you need to be reasonable and don't be tempted to play the blame game; for example delayed deliveries can sometimes hold up progress but aren't always foreseeable."
3. Your Building Work is Poor Quality
Horror stories about poor quality workmanship are all too common these days. But how do you avoid it? It's start with your quest to find a builder and putting in the research.
Finding a builder for a self build should be given time and adequate research - a good-looking website isn't enough of a recommendation. While websites with ratings of tradespeople and membership of professional warranty schemes should offer you some great insight into the quality of a build team, it's worth doing your own investigations too.
"For me, recommendation, especially from another self-builder, is the best way of obtaining names," explains serial self builder David Snell. "Either way, always make your own enquiries by talking to your longlisted builders' previous customers and looking at their previous work."
4. You go way Over Budget
There's really no crystal ball that's going to deliver you with a completely accurate build cost from the get-go, and of course it can be very easy to go over budget on a self build if you're presented with unexpected problems that need to be rectified and delays your project. And with material price rises affecting some of the key materials used in self build at the moment, your budget will be in flux more than ever.
"The only way to not leave yourself in a difficult position if something like this happens is to increase your contingency budget," says chartered surveyor Bob Branscombe. "Before starting your build, you will have put aside a contingency budget, ranging from 5% to 15% depending on a few factors."
(MORE: 15 Ways to Keep Your Build on Budget)
"Because we are living in uncertain times, I would recommend putting in another line in your budgeting for unforeseens. Percentage wise, I would recommend between 5 and 10%. Yes, this means your budget will have to increase but if you don't need to spend it, you can either save it or put it towards a nicer kitchen, flooring, bath suite etc."
5. Your Neighbours Object to Your Plans
Neighbours objecting to your planning permission isn't a brilliant start to your life in your new home, and in some cases, disagreements can lead to tension that makes the build experience very uncomfortable.
In some cases, a neighbour's objections are fully justified, and planners are likely to side with them, meaning you'll need to make adjustments to your design. However, sometimes, neighbours can become disenfranchised with the idea of a new build near their home, but love the new addition when it comes to the final result.
Keeping your neighbours on side from the get-go means clearly communicating with them about plans and building up a rapport. For example, you could choose to hand deliver a Party Wall Agreement to them, rather than it arriving out of the blue in the post. Talking through your design and plans with them before they're notified by planners can also help them more involved in the process, and gives you the chance to ease any of their concerns before they become a problem.
"I don't suggest meekly bending over backwards to accommodate different people's unreasonable (and often contradictory) demands; but a little bit of diplomacy can sometimes take the sting out of local objections or avoid them entirely," says planning consultant Ken Dijksman. "After all, if you're going to live in a new area it would be better to get on with your neighbours."
6. Your Building Site is Chaotic and Messy
A messy site is not only likely to annoy the neighbours, but it's also a health and safety risk. It may also mean that supplies and materials become damaged on site or go missing, holding up work and piling on costs.
"Rather than figuring out where to put things as they turn up, sit down in advance and think through what's needed and where best to put things," suggests self build expert Mark Stevenson. "A well thought through plan is better placed to comply with health and safety requirements and deal with the endless deliveries that will descend as the project progresses."
Planning the site layout isn't as hard as you'd think. All you need to do is mark up a plan showing where everything will go and leaving enough space to access the building, carry out construction work and store materials
7. There are Problems When it Comes to Pouring Foundations
In some cases, you don't know what groundwork is truly required until you break ground, and if you find an unexpected foundation soil type, you may find yourself having to fork out for more expensive foundations. Given that groundworks makes up about 30% of your overall budget, this could be significant.
Of course, your budget should allow for this contingency, but this will stretch your costs early on in the project. So how can you know what to expect?
"I'd strongly recommend having a site investigation to confirm the soil type on your site," suggests building surveyor Andy Butchers. "This is often forgotten about or rejected as an unnecessary expense — but in my experience, this is not only a false economy but could lead to major issues later on."
8. Your Neighbours Complain About the Building Works
When you're dealing with the stress of a self build, the last thing you need is calls and texts from neighbours complaining about the noise and disruption of your work. In most cases, if your site is well-managed, there's nothing you can really do to reduce this; however, relationships with neighbours can sour over the course of a project, even if they didn't object to the build in principle.
One way to mitigate these issues and preserve your relationship with the neighbours is to bring a project manager on board. A project manager can act as a liaison with your neighbours, taking the stress and direct contact about the build away from you as the self builder.
A good project manager will communicate with neighbours about any particularly disruptive works that will occur, so that they're aware when the site might be particularly congested or noisy, for example.
(MORE: How to Keep the Neighbours on Side During a Self Build)
"In my view, it is well worth taking time out to introduce your project manager to neighbours to explain what you are doing and when you plan to do it," says Mark Brinkley. "They tend to be far more amenable if you can give them confidence that the process is being managed properly so that it will be as quick and painless as possible."
Hugh is Digital Editor of homebuilding.co.uk and has worked on a range of home, design and property magazines, including Grand Designs, Essential Kitchens, Bathrooms, Bedrooms and Good Homes. Hugh has developed a passion for modern architecture and green homes, and moonlights as an interior designer, having designed and managed projects ranging from single rooms to whole house renovations and large extensions. He's currently renovating a Victorian terrace in Essex, DIYing as much of the work as possible. His current project is a kitchen renovation which involves knocking through walls and landscaping a courtyard garden.
Homebuilding & Renovating Newsletter
Get the latest news, reviews and product advice straight to your inbox.
Thank you for signing up to Homebuilding. You will receive a verification email shortly.
There was a problem. Please refresh the page and try again.