7 Ways to Stay on Good Terms With Your Neighbours During a Build
By Hugh Metcalf published
Major building works can cause a strain on the relationship with your neighbours. Here's how to keep them on side from the start to the end of your project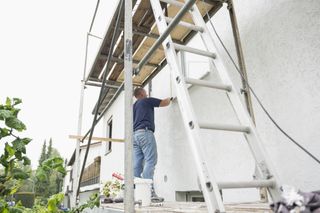 (Image credit: getty images)
It's unavoidable — starting a major building project will cause issues with neighbours. From objecting to the project itself to complaining about noise and mess, your self build, renovation or extension project can put serious strain on your relationships with next door (and beyond), but there are ways to push ahead with your build that can mitigate these issues and ensure you don't become a pariah in your own neighbourhood.
From communicating effectively to getting a considerate building team on board, here's our top 7 tips for keeping your neighbours on side throughout your project.
1. Get to Know Your Neighbours, if you Don't Already
First things first, not every neighbours are well-acquainted, especially if you've just moved home, but your neighbours may be much more forgiving if you help put a name and face to the potential disruption a building project can cause.
Getting to know the neighbours is a good start, and even better if you introduce yourself with a gift like a bottle of wine or some chocolates to win them over. Use this as an opportunity to let them know what work you're planning, but this shouldn't be your one and only communication with them before you start to build or renovate.
2. Hire a Project Manager
In most cases, if a neighbour has an issue with the noise or mess created by your build, it's with the inconvenience a certain aspect is causing, not with you personally or your project itself.
By appointing a project manager, rather than managing the build yourself, you can remove yourself from the process for small niggles and complaints neighbours may have, as they can go directly to your project manager with any issues. This will not only help your relationship, as you'll avoid any uncomfortable conversations, but also help reduce the stress of the build process.
(MORE: What is a Project Manager?)
Ensure your neighbours have a line of communication with your project manager, especially when you're not living on site during the build.
3. Introduce Your Neighbours to Your Team
If your build is going to play out over a number of months, it's worthwhile bringing your neighbours on site to show them around and introduce them to your team. Once again, putting faces and names to the build process will make the number of people around the site feel a little less obtrusive to neighbours, and mean they may feel more comfortable addressing small issues as and when they happen, rather than letting their concerns build up to a point that they lose their temper with the build process.
(MORE: Find a Builder)
4. Communicate From the Very Start
However, it's up to you to keep the lines of communication open with neighbours in most instances, and it's worthwhile talking them through your plans in more detail ahead of them receiving the proposals from the local council, or sent a Party Wall notice by your surveyor, before works begin. You could even hand-deliver your Party Wall Agreement.
Not only will this seem like better manners and more neighbourly, but it means you can explain the build in friendlier terms and address any issues they have there and then. This will hopefully mean no objections are raised when they're presented with the documents in due course.
(MORE: Party Wall Act)
5. Keep Neighbours Informed When Major Works are Happening
Noise and vibrations from heavy machinery can be one of the biggest frustrations that arises during a build, but one that you can help ease by communicating.
Keeping the neighbours up to date with a timeline where any particularly loud works will be being undertaken can help mitigate these frustrations, ensuring that they're aware it's probably not the best day to stack their calendars with at-home Zoom meetings or have people over for a barbeque in the garden.
6. Have a Construction Professional Talk Through Your Plans
Having an expert, such as your architect, project manager or lead contractor, talk to your neighbours about the build can help to set boundaries, as sometimes neighbours will incorrectly believe they have a right to challenge the design of your project.
The instances where your neighbours can register objections are largely limited to two scenarios:
If your build requires planning permission, neighbours will be given the opportunity to respond to the local authority, which will decide if their concerns are valid or not and approve or deny your planning application.
If you're building an extension that's on the larger side under Permitted Development, between 4 and 8 metres for detached houses; and 3 and 6 metres for all other houses, a Prior Approval process will be required. This will involve a Neighbour Consultation Scheme (or Larger Home Extension Scheme), in which the local authority will again survey your neighbours about the impact of the proposal.
7. Check Your Builders are Keeping the Site Tidy
If you're not living on site, it's worth making site visits to ensure that your builders are keeping communal areas tidy, there's not excess rubbish left around and that in general your site is as least of an eyesore as is possible. This is a common complaint from neighbours and one that should be easy enough to avoid with a considerate build team.
Also ask your team to ensure that they're not blocking access to neighbouring properties.
Hugh is Digital Editor of homebuilding.co.uk and has worked on a range of home, design and property magazines, including Grand Designs, Essential Kitchens, Bathrooms, Bedrooms and Good Homes. Hugh has developed a passion for modern architecture and green homes, and moonlights as an interior designer, having designed and managed projects ranging from single rooms to whole house renovations and large extensions. He's currently renovating a Victorian terrace in Essex, DIYing as much of the work as possible. His current project is a kitchen renovation which involves knocking through walls and landscaping a courtyard garden.
Homebuilding & Renovating Newsletter
Get the latest news, reviews and product advice straight to your inbox.
Thank you for signing up to Homebuilding. You will receive a verification email shortly.
There was a problem. Please refresh the page and try again.