Project Managing Your New Kitchen
By Sponsored Content published
How do you ensure the installation of your new kitchen exceeds expectations?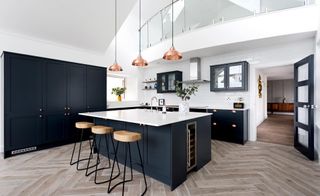 (Image credit: Callerton)
CONTENT SUPPLIED BY CALLERTON
Managing a successful kitchen renovation or extension project is complex and involves a wide range of skills, knowledge, and experience.
Project managing a kitchen installation involves three key tasks:
Arranging goods and services
Scheduling the various tradespeople needed to install your kitchen
Overseeing the installation of furniture, products, and services to the right standard
You'll find all of these attributes in a professional design-led kitchen specialist retailer. By appointing the right team at the start of your project you can be assured of your kitchen reaching its full potential. Before appointing your team check their portfolio of previous work and customer reviews to confirm their credentials.
Design and Plan
Your kitchen design should of course be in conjunction with the architectural phase, but also in relation to how your project needs to be implemented. Ultimately, you want to avoid making any off-the-cuff decisions once the build is underway.
Ensure you use a first-rate professional kitchen designer and quality products. The project management element that they offer will ensure key services such as power, plumbing, and extraction are all ready and in the right place before fitting the kitchen. Take underfloor heating as an example, the kitchen furniture and appliances cannot sit above this, meaning the kitchen footprint is required prior to starting on site.
Professional Installation
If you've designed your kitchen well, the installation process will go smoothly, and potential hiccups can be avoided.
Whether you are project managing your kitchen extension yourself, or designating it someone else, its complexity makes it a skilful job. You'll find all these project manager attributes in a professional independent design-led kitchen specialist retailer.
Hiring a specialist can take some of the stress away because they'll have done this many times before.
Homebuilding & Renovating Newsletter
Get the latest news, reviews and product advice straight to your inbox.
Thank you for signing up to Homebuilding. You will receive a verification email shortly.
There was a problem. Please refresh the page and try again.