15 Essential Resources for the Self Builder
A comprehensive list of essential self build resources and tools that will be invaluable to self builders (and renovators too)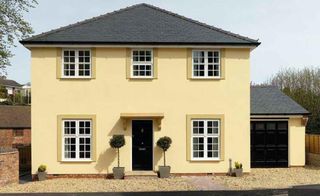 (Image credit: Jeremy Phillips)
Meticulous planning and preparation is essential for a successful housebuilding project. This process will not only help you keep your costs under control, but will help you make the right choices at the right times and keep stressful, last-minute changes to a minimum.
If you are planning on building your own home for the first time, it can be daunting, but fortunately, there are various useful resources available to help you tackle the challenge.
These handy resources cover all aspects of a build project and are well worth checking out.
As part of the Housing and Planning Act 2016, local authorities are now required to help find land for those interested in building their own homes. If you're interested in building your own home, make sure you register your interest with your local authority.
2. Landfinding Services
The notion that there is lack of available land on which to build can often put potential self builders off going ahead with their project. But there may be more land available than you may think.
A great place to start is a landfinding service, like plotfinder.net. These services will not only highlight where land is available, but will also give you an idea of the price you can expect to pay in your chosen area.
(MORE: How much should you pay for your plot?)
You'll need planning permission if you're going to build your own home, but there are some exemptions if you are renovating or extending.
You'll find everything you need to know about planning permission (as well as all relevant documentation) on the Planning Portal site.
If you're looking at how to finance your self build project, make sure you are aware of the specialist mortgages available. Self build mortgages are released in stages rather than in one lump sum.
(MORE: Find self build mortgages and deals)
A great place to start is to arm yourself with a stack of magazines, like Homebuilding & Renovating, that are packed full of information, inspiration and contacts that is sure to set you on the right path when it comes to building your home.
Not only are these magazines essential for growing your own knowledge base, but they will often spark ideas that may never have occurred to you.
(MORE: Check out our latest subscriptions offers)
This free calculator tool will help you to estimate your build costs, taking into account the kind of house you'd like to build, where you want to build it and how involved you want to be in the process.
The right kind of insurance is a must when it comes to building your own home. Homebuilding & Renovating has partnered with leading insurance specialist Self Build Zone to provide bespoke solutions at market-leading rates for its readers.
The expert advice on offer at these events is invaluable to self builders and renovators. Spend your day taking in the seminars, talking to industry experts and seeing products first hand, all under one roof!
If you haven't attended the Homebuilding & Renovating Show before, it's well worth a visit.
The National Custom and Self Build Association (NaCSBA) aims to promote self build and custom build as a significant form of home building in the UK. The Association also produces The Self Build Portal which is full of useful information on a variety of self build areas.
The Royal Institute of British Architects (RIBA) is the professional body for architects – use their search function to find a RIBA-approved architect in your area.
Chartered Institute of Architectural Technologists (CIAT) is the qualifying body for architectural technology – use their search function to find an architectural technologist near you.
If you're thinking about building an oak frame home, take the opportunity to stay overnight in a fully functional show home to get a sense of the end result you could achieve.
With five Potton-designed self build homes on the site in St Neots, Cambridgeshire, you can actually walk around and get a real sense of the design, as well as finding loads of ideas for your own project. If you find it challenging to visualise a design having just seen it on paper, this experience will be exceptionally useful for you.
Find a master builder for your build project using the 'Find A Builder' function on the FMB site.
15. Trade Review Sites
Take the stress out of finding the right tradesperson for your project by using a trade review site, like Checkatrade, MyBuilder and Rated People. Many of these sites feature reviews from previous clients to help you find a reliable tradesperson to help with your project.
Homebuilding & Renovating Newsletter
Get the latest news, expert advice and product inspiration straight to your inbox.
Thank you for signing up to Homebuilding. You will receive a verification email shortly.
There was a problem. Please refresh the page and try again.