19 Essential Resources Every Self Builder Should Know
A comprehensive list of essential self build resources and tools to help self builders (and renovators)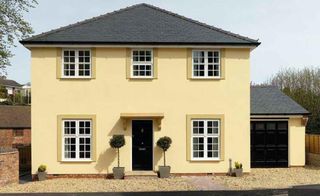 (Image credit: Jeremy Phillips)
Before you break ground on your homebuilding project, a lot of meticulous planning and preparation is required - not only to help keep a handle on your build costs and make the right decisions for your project, but also to avoid unnecessary stress and changes mid-way through.
It can be daunting to take on such an ambitious project, especially if you've never done it before, but fortunately there are numerous resources, covering all aspects of the build process, available to help you push on with your project.
(MORE: Self Build Guide)
As part of the Housing and Planning Act 2016, local authorities are now required to help find land for those interested in building their own homes. If you're interested in building your own home, make sure you register your interest with your local authority.
2. Planning Portal
You'll need planning permission if you're going to build your own home, but there are some exemptions under permitted development if you are renovating or extending.
You'll find everything you need to know about planning permission (as well as all relevant documentation) on the Planning Portal site.
3. Landfinding Services
The notion that there is lack of available land on which to build can often put potential self builders off going ahead with their project. But there may be more land available than you may think. You might not find an abundance of virgin plots in your local area, but there could be opportunity to develop a brownfield site, or you may find an existing property where it makes more financial sense to demolish and replace rather than renovate.
A great place to start is a landfinding service, like plotfinder.net. These services will not only highlight where land and renovation opportunities are available, but will also give you an idea of the price you can expect to pay in your chosen area.
(MORE: How to value a building plot)
This free calculator tool will help you to estimate your build costs, taking into account the kind of house you'd like to build, where you want to build it and how involved you want to be in the process.
This is an essential step before you meet with your finance provider, and first time self builders find it useful to also check out these self build homes for an idea of what can be achieved for a similar cost.
5. Self Build Mortgages
If you're looking at how to finance your self build project, make sure you are aware of the specialist mortgages available. Self build mortgages are released in stages rather than in one lump sum.
(MORE: Self Build Mortgages)
6. Homebuilding & Renovating Show
The expert advice on offer at exhibitions such as the Homebuilding & Renovating Show, is invaluable to self builders and renovators.
Many events of this nature became virtual during the pandemic, but the Homebuilding & Returning Show is returning to the NEC on 8-11 July to ensure you can get one-to-one advice with homebuilding experts and browse the latest products.
Find out more about the Homebuilding & Renovating Show.
7. How-to Guides
Learning the techniques behind some building work will be particularly useful if you're looking to do most of your self build yourself, or looking to reduce your costs.
Visit our YouTube channel for a series of informative how-to videos, including How to Insulate Your Loft and 8 Top Tips for Plastering.
The National Custom and Self Build Association (NaCSBA) aims to promote self build and custom build as a significant form of home building in the UK. NaCSBA also produces The Self Build Portal which is full of useful information on a variety of self build areas.
9. Magazines
SHOP NOW
A great place to start is to arm yourself with a stack of magazines, like Homebuilding & Renovating, that are packed full of information, inspiration and contacts that is sure to set you on the right path when it comes to building your home.
Not only are these magazines essential for growing your own knowledge base, but they will often spark ideas that may never have occurred to you.
The right kind of insurance is a must when it comes to building your own home. Homebuilding & Renovating has partnered with leading insurance specialist Self Build Zone to provide bespoke solutions at market-leading rates for its readers.
11. The Planning Hub
The Planning Hub is a new online resource that will help you understand how to get to grips with complex planning rules.
Once you're signed in, you can access easy-to-read guides written by Homebuilding & Renovating's planning experts, which will provide you with key information to help you obtain planning permission.
12. Help to Build
The Help to Build scheme will launch this spring, which could have a transformational impact for self builders.
The full details of Help to Build have not yet been confirmed, but it is expected to be an equity scheme for self builders, which will offer equity loans partially funded by the government to reduce the requirement of a large deposit to secure a self build mortgage.
Richard Bacon MP, a member of the Right to Build taskforce, says the scheme "could open up a range of opportunities" for self builders.
The Royal Institute of British Architects (RIBA) is the professional body for architects – use their search function to find a RIBA-approved architect in your area.
(MORE: 11 Ways to Assess Your Architect)
Chartered Institute of Architectural Technologists (CIAT) is the qualifying body for architectural technology – use their search function to find an architectural technologist near you.
(MORE: What is an Architectural Technologist?)
15. The Housebuilder's Bible
SHOP NOW
The Housebuilder's Bible is an essential resource for planning your self build or renovation project, and for a limited time only you can get a free copy when you subscribe to Homebuilding & Renovating magazine.
In the Housebuilder's Bible, experienced housebuilder and renovator Mark Brinkley delves into the information extenders and renovators need to make the right project decisions.
The 13th edition of the best-selling guide insightfully explores project management guidance, design tips and the home build pitfalls to avoid.
If you're thinking about building an oak frame home, take the opportunity to stay overnight in a fully functional show home to get a sense of the end result you could achieve.
(MORE: 18 inspiring oak frame designs)
With five Potton-designed self build homes on the site in St Neots, Cambridgeshire, you can actually walk around and get a real sense of the design, as well as finding loads of ideas for your own project. If you find it challenging to visualise a design having just seen it on paper, this experience will be exceptionally useful for you.
Find a master builder for your build project using the 'Find A Builder' function on the FMB site.
(MORE: Top tips to help you find a builder for your project)
19. Trade Review Sites
Take the stress out of finding the right tradesperson for your project by using a trade review site, like Checkatrade, MyBuilder and Rated People. Many of these sites feature reviews from previous clients to help you find a reliable tradesperson to help with your project.
(MORE: How to find the best tradespeople)
Sarah is Web Editor of homebuilding.co.uk. She began her career more than a decade ago, working on the editorial team of Public Sector Building magazine, before joining the wider Homebuilding & Renovating team as Social Media Editor in 2012. Since purchasing her first house in 2015, Sarah has been adding to the ever-increasing list of home improvements she needs to make; including extending over the garage, resurfacing the driveway, replacing existing flooring and revamping the kitchen. Fortunately, in her eight years on Team Homebuilding, including three as web editor, she is not short on design inspiration or top tips to tackle or project manage these tasks herself.
Homebuilding & Renovating Newsletter
Get the latest news, reviews and product advice straight to your inbox.
Thank you for signing up to Homebuilding. You will receive a verification email shortly.
There was a problem. Please refresh the page and try again.