Choosing Between a Concrete and Steel Staircase Structure
By Sponsored Content published
What are the major differences between steel and concrete staircases – and more importantly, which one do you choose?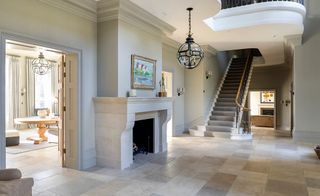 (Image credit: Bisca)
CONTENT SUPPLIED BY BISCA STAIRCASES
What are the differences in cost?
For budgeting, you cannot simply compare the cost of a concrete stair and a steel stair on paper. You must also factor in the variables of finish, quality, accuracy, cladding, balustrade, handrail, installation and time to the final cost to be able to make an informed decision.
If you want a visually lightweight design, then a slim steel structure will give you the look you want, as well as the option of choosing open treads to increase flow of light.
Concrete structures can sometimes look clumsy in main living areas and as such are a popular choice for basement stairs. With any staircase, it's important that the design works with the space available rather than take over it.
Liquid concrete is dependent upon many variables including temperature, consistency, mix and experience of your builder, not to mention the accuracy of his timber shuttering.
Concrete structures can be difficult to cast accurately. Steel on the other hand is controllable through design and manufacturing methods to precision mm accuracy.
How is it going to look from the side?
Steel stringers can be clad in solid timber, veneered, painted or finished with a specialist metal covering. Most concrete staircases are simply plastered and painted or require an MDF stringer to cover the rough concrete.
Is Lighting part of your plan?
A staircase specialist will prefer to incorporate lighting into the staircase design itself and treat this aspect as an integral part of the staircase design.
Free up your builder to work on other areas
With a concrete staircase, a significant amount of your builders' time will be spent in creating, shuttering and reinforcement prior to casting the staircase. If time is tight or the project is running behind schedule, choosing a steel structure from a staircase specialist will free your builder up to work on other areas of your project.
Staircase specialists can split the staircase installation into two parts – providing your site team with a useable structure for access early in project if required; returning to finish the area and clad the staircase towards the end when most of the construction work is complete and there is little danger of damage to materials.
Don't forget about the finish
Both concrete and steel structures can be clad with a material of your choice – timber, stone, marble or even Corian. Cladding a staircase is an area where time can be won or lost and quality guaranteed or compromised.
A steel structure is much safer and easier to clad as responsibility of design and installation remains with the staircase specialist who provide CAD data to the stone supplier. The stone supplier will CNC cut all components accurately off site to reduce installation time and significantly improve the quality of installation. As data is transferred from program to program, the incidence of human error is greatly reduced.
Concrete staircases must be templated on site by the stonemason who then sends off the templates to get the treads and risers manufactured prior to returning to site for installation. Installation of stone treads onto inaccurate concrete structures is never straight forward and high quality finish is usually compromised because drilling stone on site has inherent risks of cracking, entailing removal, remaking and resetting.
Be aware of hidden dangers
Drilling concrete structures for the purpose of cladding, or balustrade fixing is both time-consuming and risky due to the danger of hitting concealed reinforcing metal structures hidden within the concrete. Drilling into concrete and inadvertently hitting one of these metal bars could damage them and weaken the structural integrity of the whole staircase.
Don't start building your staircase before the design is finished
Consult a staircase designer
Consulting a staircase designer is always going to give you the best results. A staircase specialist will consider the staircase and stair area from both form and functional aspects and work with other members of your project team to ensure the staircase becomes a seamless part of the build process.
Cutting out the specialist and going directly from architect to builder/fabricator may throw in a few surprises along the way; subsequently limiting your options and compromising the outcome. Visit Bisca Staircases www.bisca.co.uk (opens in new tab)
How it all fits together and interfaced to your property is part of the design. Starting to build before your design is complete may result in the staircase not fitting the property, or the balustrade design being compromised in some way.
Splitting the staircase and balustrade between suppliers is generally not cost effective
In reality you will probably end up paying more, not to mention the added hassle of co-coordinating trades and resolving design elements of components across several suppliers. A staircase manufacturer will automatically consider a handrail and balustrade as part of a staircase; not so with some architects or builders.
Homebuilding & Renovating Newsletter
Get the latest news, reviews and product advice straight to your inbox.
Thank you for signing up to Homebuilding. You will receive a verification email shortly.
There was a problem. Please refresh the page and try again.