Can Injected Damp Treatments Damage Your Home?
By Ian Rock published
Not only can injected damp treatments be a waste of money, they can also do untold damage when applied to homes that don't need them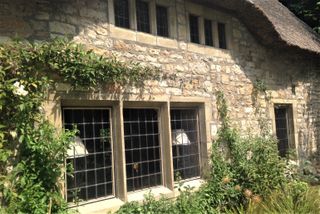 (Image credit: Redwood Stone - Folly & Garden)
If you're planning on buying an older property any time soon you could be entering into a world of unnecessary damp treatments. At the slightest whiff of dampit's not unusual for mortgage lenders to insist on a 'timber and damp report', withholding part of the loan as a 'retention' (typically around £2,000) which can only be released once any necessary remedial work has been carried out backed by a 20-year guarantee.
The trouble is, this approach often results in a lot of unnecessary work being carried out. At worst, damp treatments can be counter-productive, damaging to the fabric of the property as well as being a complete waste of money.
When and why might damp treatments be recommended?
When you apply for a mortgage, either to buy a property or to switch to a better deal, the bank or building society will normally instruct a panel valuer to carry out a brief inspection.
The reason why the spectre of damp has grown to such gargantuan proportions in the minds of bankers is that, left unchecked, it can potentially fuel devastating outbreaks of rot and beetle infestation to structural timbers, with dire implications for the property's market value.
Hence, even for straightforward valuation inspections, surveyors routinely arrive tooled up with damp meters to check moisture levels. If any damp is noted, a professional judgement needs to be made. Fortunately in most cases the odd spot of damp isn't significant, and is easily remedied.
When purchasers commission a private survey, such as a RICS homebuyer reportor building survey, the surveyor has a free hand to explain the type of damp along with any implications or action required. But when it comes to mortgage valuations, panel valuers appointed by lenders are often instructed to regurgitate standard pre-formatted phrases drafted by lawyers. Deviate from this and you risk being booted off the panel.
The following is a fairly typical phrase found in mortgage valuations under the heading 'Essential Repairs': 'There is evidence of dampness to ground floor walls, and timbers in contact may be defective. You should instruct a damp and timber treatment contractor to investigate the full extent and carry out necessary repair work.'
This simple phrase has the effect of setting wheels in motion, assuming that the purchasers haven't been scared off and decided to pull out, and before you can say 'fungal decay', a white van loaded with damp-proofing equipment will arrive on the scene, primed to do battle.
What are injected damp treatments?
Injecting a DPC involves drilling a row of small holes about 100mm apart into a mortar course just below ground floor joist level. A silicone-based fluid is then applied under pressure into the masonry where it hardens to form a chemical damp-proof course.
The question is, does it work? In theory the fluid soaks into the wall forming a horizontal barrier to block any damp from rising up. But in the vast majority of cases the DPCs are actually injected at far too high a level to protect floor timbers. And, instead of correctly injecting into mortar joints, the brickwork itself usually gets drilled, leaving a clear pathway for damp to get past the bricks via the mortar.
Adding insult to injury, these drilled holes are often left exposed — an open invitation to rain and frost damage. Furthermore, injected DPCs don't work at all in thick stone walls. But the pièce de résistance is this: in order to qualify for the guarantee required by mortgage lenders, the installers hack off low-level interior plasterwork and apply waterproof cement render tanking to the inner face of the walls up to about 1.5m (it's your job to redecorate).
This achieves the twin effect of obscuring poor installation while appearing to solve the problem because the wall surface is no longer damp. Then once the mortgage lender has received the guarantee (which may be worthless) the retention money can be released.
The trouble is, hidden floor timbers in contact with damp walls may still be quietly rotting away. Conservationists take the view that in period properties, injected DPCs can often make matters worse by adding additional barriers to breathability. Not to mention the fact that the lower walls are scarred with lots of unsightly holes.
Other treatments, such as fixing multiple vents to your walls, can be even more visually intrusive, pock-marking the brickwork until it resembles a climbing wall in the gym. The use of sealants designed to shield walls from rain can also prove detrimental if moisture enters the structure internally or via hairline cracks and becomes trapped.
How should I tackle damp?
The correct approach to solving damp problems involves identifying the true causes and remedying the source of the problem. The fact is, a properly maintained building shouldn't need special treatments to manage damp effectively. Above all, it's important that moisture is free to escape, which means using traditional lime-based mortars and renders on older solid wall buildings.
In most cases, excessive external surface water can be diverted away and this, along with proper maintenance, can go a long way to resolving damp problems in lower walls and floors. An exception would be where walls below ground or basements may need lining with ventilated insulated cavities or protective tanking. Cladding outer walls with tile hanging or weatherboarding can sometimes be a useful solution when penetrating damp is caused by persistent traffic spray.
Chartered surveyor Ian is the author of eight popular Haynes House Manuals and is a director of Rightsurvey.co.uk. He is also in the process of adding a large extension to his home.
Homebuilding & Renovating Newsletter
Get the latest news, reviews and product advice straight to your inbox.
Thank you for signing up to Homebuilding. You will receive a verification email shortly.
There was a problem. Please refresh the page and try again.