Can I Use Masonry Paint on Wood? Your Questions Answered
By Steve Jenkins published
Can I use masonry paint on wood? It's a simple question, but it doesn't have such a simple answer. We take a closer look at what's being asked and reply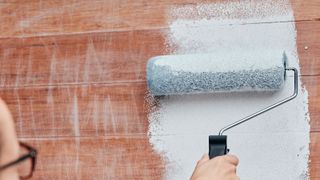 (Image credit: Getty Images)
On face value 'Can I use masonry paint on wood?' may seem like an odd question. But the more you think about the question the more curious you become. The first thing you might think is why would you? It's not specifically tailored for wood and there are hundreds of paints on the market that are.

But then you might think why not use masonry paint when painting wood; it's paint after all. And you may have a big exterior paint job that needs a lot of masonry paint and be left with a decent amount that doesn't get used. You don't want to keep it for 10 years until the job needs a refresh, so painting your fence with it may appeal.
So where else can you use it? Here we answer a few common questions on how masonry paint be used with different woods.
Can I Use Masonry Paint On Wood Fences?
Yes, you can use masonry paint on a wooden fence. Most masonry paints are formulated for outdoors so are weatherproof and have long lasting properties. Unlike a lot of wooden fence paint, masonry paint is designed to create a protective film that sits on the top of the surface, so you won't get to see the wood grain like you do with a fence paint.
However, a lot of wooden fence panels are made from rough sawn timber which means that they absorb the paint more than planed timber. So you need to know how to paint a fence to make sure that you get a solid finish.
Can I Use Masonry Paint On Sheds?
Yes you can, its weatherproofing qualities make it an ideal choice. Masonry paint is better suited to sheds with planed timber such as shiplap or tongue and groove, rather than rough sawn timber as it typically covers the wood quicker and more evenly.

Alternatively, you can try some of the best exterior wood paints on the market if you can't get the colour you want. Making sure that your shed complements the rest of your garden and protects against the elements.
Can I Use Masonry Paint On Decking?
You can use masonry paint on wooden decking. Its weatherproofing makes a good choice for outdoor wood, but it's a good idea to water down the first coat a little so that it penetrates the wood.
This will provide a better base for the top coat to adhere to, meaning that it should last longer. Try using a textured masonry paint to give more grip to the surface, especially when the decking is wet.

The bonus of using masonry paint is that you can get more colour choices. It's always worth looking at different decking colour ideas before you start to help create your ideal outdoor space.
Can I Use Masonry Paint On Interior Windows, Doors and Skirting Boards?
The answer is yes you can, but why would you? Most masonry paints are formulated to work outdoors and if used indoors they are usually designed for interior masonry projects such as painting a brick fireplace.

While you can get masonry paints in a smooth texture, you are much better off using primer, undercoat and gloss/satin, specifically designed for the task at hand, to get a long lasting finish on your interior woodwork.
Steve is an avid DIYer with over 20 years of experience in transforming and renovating homes. He specialises in painting and decorating, but has strong all-round building skills, having previously worked in the industry for 10 years.
Homebuilding & Renovating Newsletter
Get the latest news, reviews and product advice straight to your inbox.
Thank you for signing up to Homebuilding. You will receive a verification email shortly.
There was a problem. Please refresh the page and try again.