Women in Construction Week: Discrimination Still an Industry Challenge
By Jack Woodfield published
As Women in Construction Week challenges industry stereotypes, 39% of tradeswomen say they're not taken seriously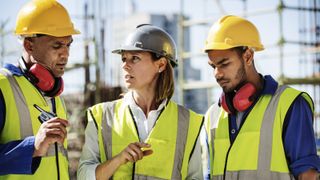 (Image credit: Getty Images)
As the homebuilding industry celebrates Women in Construction Week, a new report has revealed that one in three tradeswomen say they're not taken seriously because of their gender.
The Rated People Home Improvement Trends Report 2022 also disclosed that almost one in 10 customers have refused to let tradeswomen do a job because they're a woman.
Women currently make up around 11% of construction industry professionals, according to research from the Women in Construction Summit, and this helps to provide greater diversity of choice for those looking to find a builder.
Women in Construction Week (6-12 March) strives to encourage the next generation of women to enter construction, but discrimination and a lack of equality remain prominent industry challenges. On average, women earn just 72% of what men do in construction trade jobs, according to Rated People. For floorers and wall tilers, it's just 41%.
Emma Downer, DIY entrepreneur and Homebuilding & Renovating contributor, says: "The idea of women in DIY and construction is still an alien concept to some people, and as a result I receive sexist comments on my tutorial videos like 'women shouldn't be allowed to do DIY', 'get back in the kitchen' and 'a man could have done it better' really quite often."
One positive is that 46% of homeowners surveyed in the report say they'd hire a tradeswoman, but over half (11) of the 20 professions with the worst levels of representation of women in the UK are within the trades industry, Rated People says.
Women in Construction Influenced by Media
To help inspire the next generation of women in construction and reduce the gender divide, Downer says that media portrayal is vital. "I believe it comes down to representation in popular media, which influences so much of our beliefs, expectations of gender roles and understanding of the world in general. Sometimes even without us being cognisantly aware of it."
This view is echoed by Beth Skinner, a self-employed bricklayer who believes negative media coverage can be an inhibiting factor. She sees the media as the most important aspect of encouraging women into construction.
"Construction will always be a male-dominated industry. But it is great for women to be able to see other women in construction and think 'I can do that'. If you're a female bricklayer, you stand out. But if young women don't see this, and it is not advertised to them in the right way, then they won't know of the options available to them."
Skinner believes that addressing media coverage of women in construction could have a beneficial knock-on effect. "It would reflect on other industries too. Seeing influential women can encourage young women, and likewise it could help inspire young men to get into industries that are more female-driven."
Women in Construction Making an Impact
There are some major initiatives currently aspiring to even up the gender balance within the homebuilding industry. Leading architect Laura Jane Clark's network and Heather Thurlby's female-only directory Female Tradesperson are spotlighting women experts within homebuilding, plumbing, electrical services and more.
Clark, founder of Lamp Architects, Homebuilding & Renovating contributor, and star of TV programmes including Amazing Spaces, Shed of the Year, and Your Home Made Perfect, believes that increased inclusivity within the industry is helping more women expand their platforms, providing increased choice for homeowners and aspiring homebuilders.
"When I started out, generally my voice wasn't heard at all. You'd be the only woman in the room. It's changed since then," Clark told Homebuilding & Renovating.
"There are more female plumbers and female builders, which is great. And there's a lot of men getting into design, so there's much more conversation that everybody is part of, in terms of DIY and building homes, that has helped to push everyone together."
Clark's Siren Sister is a network of diverse female architects, designers and artists, and her ambition is for it to become the first port of call for television, media and film companies to widen and diversify their existing talent base.
"I have always been conscious of the lack of diversity in television and a lack of female voices and expertise in architectural and design programming. I thought if I could build a network of experts, then producers could go directly to this network and choose from a diverse range of talent," she said.
Thurlby's FemaleTradesperson.co.uk is a one-of-a-kind directory promoting and supporting female-owned and run construction and trade businesses across the UK. The inspiration came from her own experiences working within the heating and engineering sector, which made her want to provide women with a voice to shout about their business.
"I hope that our directory will not only encourage women in the industry by providing a platform they can trust and rely on, but it will also create a shift within the industry which will ultimately help future generations of girls to choose roles that used to be traditionally male," she said.
Jack has worked in journalism for 11 years and is the News Editor for Homebuilding & Renovating, a role he has had since 2019. He strives to break the most relevant and beneficial stories for self builders, extenders and renovators, including the latest news on the construction materials shortage and hydrogen heating. In 2021 he appeared on BBC's The World at One to discuss the government's planning reforms.
He enjoys testing new tools and gadgets, and having bought his first home in 2013, he has renovated every room and recently finished a garden renovation.
Homebuilding & Renovating Newsletter
Get the latest news, reviews and product advice straight to your inbox.
Thank you for signing up to Homebuilding. You will receive a verification email shortly.
There was a problem. Please refresh the page and try again.