Waste heat from computer systems to be recycled and used to power British homes
Five projects will receive a share of nearly £65 million to deliver clean, low-cost heating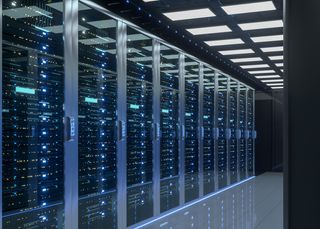 (Image credit: Getty Images)
Thousands of homes will be kept warm by waste heat generated by data centres as part of a new £65m UK Government scheme to help reach net zero goals.
The Old Oak and Park Royal Development Corporation in the London boroughs of Hammersmith and Fulham, Brent, and Ealing will be the first of its kind to recycle waste heat from large computer systems storing internet data to supply heating for locals.
A total of five projects will receive a share of nearly £65 million to deliver cleaner, low-cost heating to thousands of homes and businesses, officials say.
Computer systems to heat over 10,000 homes
The heating network, backed by £36 million in government support, aims to connect 10,000 new homes and 250,000 metres squared of commercial space to low-carbon energy sources that will help keep bills low and contribute to the UK's drive to reach net zero by 2050.
Energy Security Secretary Claire Coutinho said: "Innovative projects, like these announced today, are another example of why the UK is a world leader in cutting carbon emissions.
"We are investing in the technologies of the future so that families across the country will now be able to warm their homes with low-carbon, recycled heat – while creating thousands of new skilled jobs."
How will it work?
Heat networks supply heating and hot water to homes and businesses via heat pumps, such as air source heat pumps, or sources from underground, manufacturing, and waste management.
They help cut carbon emissions by supplying heat to multiple buildings from a central source, avoiding the need for households and workplaces to rely on individual, energy-intensive heating solutions, such as gas boilers.
District heating systems come in many different sizes. The largest cover entire cities such as Stockholm in Sweden or Flensburg in Germany, using a network of large pipes.
One of five innovative green heating projects introduced around the country
The project is one of five low-carbon heating schemes that will be supported by the UK Government.
The other projects are:
A heat pump system in Chilton Woods, Suffolk, which will see nearly 1,000 homes and a primary school provided with low carbon heating.
The London Borough of Brent will receive nearly £5.2million for the South Kilburn District Heat Network, supplying heat using air source heat pumps combined with back up gas boilers to 34 sites via a 2.79km pipe network.
Watford Community Housing (WCH), a not-for-profit housing association with approximately 5,700 homes, will receive £1.8 million of funding to replace an old gas district heating system with air and ground source heat pumps.
Lancaster University will receive more than £21 million to fully decarbonise its campus with a low carbon energy centre. The centre will use air source heat pumps, thermal storage and electrical infrastructure works.
Lord Callanan, Minister for Energy Efficiency and Green Finance, said: "Keeping homes warm with waste heat from technology is a glimpse into the future - and demonstrates just how innovative this country can be when it comes to reducing our carbon emissions.
"The £65 million we've awarded will help spread this success across the country, by rolling out innovative low-carbon heating to help to drive down energy bills and deliver our net zero goal."
Get the Homebuilding & Renovating Newsletter
Bring your dream home to life with expert advice, how-to guides and design inspiration, direct to your inbox.
Sam is based in Coventry and has been a news reporter for nearly 20 years. His work has featured in the Mirror, The Sun, MailOnline, the Independent, and news outlets throughout the world. As a copywriter, he has written for clients as diverse as Saint-Gobain, Michelin, Halfords Autocentre, Great British Heating, and Irwin Industrial Tools. During the pandemic, he converted a van into a mini-camper and is currently planning to convert his shed into an office and Star Wars shrine.