Latest Black Friday Offer - Half Price Subscriptions!
By Claire Lloyd
Save 50% on the cover price when you subscribe to Homebuilding & Renovating magazine this week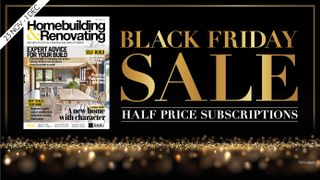 (Image credit: Future)
If you're looking to self build or transform your existing property into your dream home, look no further than Homebuilding & Renovating, Britain's number one for self builders and home extenders.
Homebuilding & Renovating is an essential guide for anyone renovating, extending, converting or building their own home. 
Every issue provides you with:
practical advice to complete your build on time and to budget
design ideas and the latest products
inspirational self build, renovation and extension projects.
For a limited time only, save 50% on a subscription to Homebuilding & Renovating*.
*T&Cs apply. 
The Essential Guide to Your Building Project
With independent expert advice for your project –  from finding your plot and securing planning permission through to choosing the right construction system and build route, then making the best choices in terms of doors, windows and interior finishes – we'll ensure the journey towards creating your dream home is a smooth one.
Subscribe and receive:
Independent expert advice for completing your building project on time and within budget
All the latest news that could affect your project and save you money
100s of expert tips for your building project.
In the Next Issue
In the 30th anniversary special issue of Homebuilding & Renovating, you'll find loads of great articles, including:
Celebrating 30 years of self build, amazing homes, changing trends and incredible innovations
How to transform your home
Budget-savvy design ideas
Complete guide to timber frame
The secret to finding a great building plot
and much more!
Available in print or digital format.
UK subscribers to Homebuilding & Renovating magazine's print edition will also receive their issue in a 100% recyclable paper-wrap!
Homebuilding & Renovating Newsletter
Get the latest news, expert advice and product inspiration straight to your inbox.
Thank you for signing up to Homebuilding. You will receive a verification email shortly.
There was a problem. Please refresh the page and try again.