Some Green Homes Grant Projects May Not Finish on Time, Industry Expert Warns
The 31 March 2021 deadline for the Green Homes Grant could be too short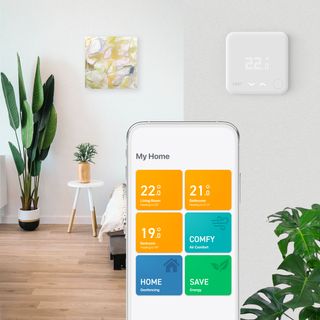 (Image credit: tado)
The government cannot afford to let the Green Homes Grant scheme end in March, an industry expert says. 
The Green Homes Grant is a £2bn government scheme which launched last week, enabling homeowners to apply for vouchers of up to £5,000 to make energy-efficient home improvements.
While it is scheduled to end on 31 March, there are fears that this isn't enough time for homeowners to apply for improvements (such as the installation of insulation, double glazing and heat pumps), obtain quotes from tradespeople and have the work completed. 
Paul Hughes is the head of communications at tado, a technology company which produces smart thermostats – these are eligible as a secondary measure on the Green Homes Grant – and he is concerned that some projects won't be able to finish on time. 
(MORE: Smart heating controls explained)
Green Homes Grant End Date Concerns
"It is quite a short timeline, and I would imagine the government is going to be monitoring the progress of applications, and considering whether to extend the grant," Hughes told Homebuilding & Renovating.
"It's especially short for bigger projects, such as the installation of heat pumps, and it's going to be tight to get these completed. A lot of it will depend on how easy it is to apply, and how easy it is to push applications through."
Concerns were heightened last week when a poll warned the grant could be oversubscribed, and actual demand could be more than 10 times the number of grants available.
"If they get a lot of applications, then there could be a lot of projects which won't finish on time, then the government will have to reconsider the end date," Hughes added. 
Grant is Stirring up Debate
Hughes says that one of the biggest positives of the Green Homes Grant is that it has gotten people talking about their energy use, and how they can save costs by making energy-efficiency improvements.
"I think the grant is encouraging people to look into energy-saving measures, and what makes the most impact. It's stirring up a lot of good debate.
"Generally, people don't really understand where their energy is going, and where it's being lost. And aside from the practical aspect of applying for the grant, people are going to have a much better understanding of exactly how energy works, how to make their homes more efficient, and how to save energy."
This is a great study by @tado. UK homes are losing heat up to three times faster than European neighbours. https://t.co/cfdLwKf2YV pic.twitter.com/KgpAD1zKdCFebruary 21, 2020
Earlier this year, tado conducted a study which revealed UK homes lose heat three times faster than some European countries - a worrying statistic, but Hughes hopes that the Green Home Grant will reach enough people and inspire enough homeowners to act.
"There is an issue in UK homes. If your home is losing heat, your boiler has to work harder to make heat, so your home is losing energy. A lot of homes lose energy because that energy is heating empty rooms. And when you tally up this energy loss throughout the year it's a huge amount of heat that's wasted.
"The Green Homes Grant is a public education legacy, and a good foundation for the government to build upon to tackle environmental issues and poor energy efficiency in homes."
Homebuilding & Renovating Newsletter
Get the latest news, expert advice and product inspiration straight to your inbox.
Thank you for signing up to Homebuilding. You will receive a verification email shortly.
There was a problem. Please refresh the page and try again.