Planning Reforms Make the Planning System Less Democratic, Say 78% of Councillors
The planning reforms have led to resistance among Conservative and Labour councillors, who plan to push back against the proposals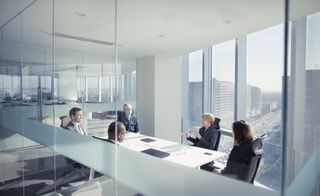 (Image credit: Getty Images)
Nearly eight out of 10 councillors say the new planning reforms will make the planning system less democratic, a new survey has revealed. 
The government is facing mounting pressure following its sweeping planning reforms introduced in August, which include the extension of Permitted Development rights to make it easier to demolish certain vacant buildings and replace them with new homes.
The reforms are open for consultation until 29 October and, in a worrying development for the government, a new poll by Savanta Comres on behalf of planning communications specialists BECG shows that overall, 78% of councillors say the reforms would make the planning system less democratic. 
Six out of 10 Conservative councillors held this view, shared by nine out of 10 Labour councillors.
"This report highlights the huge challenges facing the government's planning reforms," said BECG managing director Andrew Howard.
"There is significant scepticism amongst Conservative councillors, and the government will have to put in some serious spade work to persuade their local government colleagues to embrace these changes, which many see as eroding local democratic control of planning."
(MORE: Planning Permission Guide)
Planning Reforms Create Green Belt Controversy
There is increasing alarm at the moves the government says are designed to speed up housebuilding, with concerns raised that they could increase low-quality housing and fail to protect wildlife.
(MORE: Planning Reforms Fail to Protect Wildlife)
Just over half (52%) of councillors believe there should be a review of the government's proposal to divide land into growth, renewal and protection zones, the latter of which includes green belt land.
Around 70% of Tory councillors want to increase the size of the green belt to afford more protection of land - a move which appears contradictory to the government proposals that otherwise unprotected land, such as farms, could be zoned for construction. 
Half of councillors believe there should be a review of the green belt, with Labour (64%) and Conservatives (47%) split on the issue. 
Council Fears Over New Developments
Another contentious issue for councillors concerns the proposal for all councils to have a local plan for housing, to help build homes faster. 
The government says that these local plans will put a new emphasis on engaging with constituents at the plan-making stage, and streamline the opportunity for councils to consult with constituents at the planning application stage.
The government's rationale for the proposal in the Planning for the Future white paper is that, currently, consultation during the application stage delays the process, and "allows a small minority of voices, some from the local area and often some not, to shape outcomes".
The BECG survey reveals that 64% of councillors disagree with this proposal, and believe the majority of consultation should take place when considering individual applications, rather than when broad local plans are devised,  
Local Government Association (LGA) chairman James Jamieson has warned that the loss of consultation which lead to a loss of control over developments. He said this loss "would deprive communities of the ability to define the area they live in and know best and risk giving developers the freedom to ride roughshod over local areas".
Homebuilding & Renovating Newsletter
Get the latest news, expert advice and product inspiration straight to your inbox.
Thank you for signing up to Homebuilding. You will receive a verification email shortly.
There was a problem. Please refresh the page and try again.