Permitted Development Update: Prior Approval Will be Required for Two-Storey Extensions
Extenders will be able to use Permitted Development to add two storeys to their home from September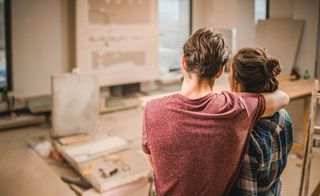 (Image credit: Getty Images)
Prior approval will be required for homeowners using Permitted Development to extend by up to two storeys from September, the government has confirmed.
Confirmation came through the government's Planning for the Future white paper published on Thursday 6 August, which is now open for consultation until 29 October.
Housing secretary Robert Jenrick revealed last month that extensions of up to two storeys would be fast-tracked through Permitted Development. Now, it has been confirmed that prior approval - a formal submission to a local planning authority to seek confirmation that specified parts of a development are acceptable, before work can commence - will be required.
The white paper reads:
"Where we are taking forward existing schemes to expand the scope of permitted development through upwards extensions and demolition/rebuilding, we also intend to legislate so that prior approval for exercising such rights takes into account design codes which are in place locally (or, in the absence of these, the National Model Design Code)".
Reaction to the Permitted Development Changes
The new rules, which will come into effect by September, are hugely significant for extenders. This legislation will enable homeowners to gain more living space - with a requirement to carefully consider the appearance of the extension and how this could impact neighbours.
However, this extension of Permitted Development rights has drawn criticism. Alan Jones, president of the Royal Institute of British Architects (RIBA), described it as "truly disgraceful", citing that local communities could be left powerless to fight against certain developments.
David Coppinger, Conservative councillor for Bray, has too expressed concerns over the forthcoming changes. Mr Bray said: "I would hope that when we see the details, that we have some powers over it. You have got the street scene to consider. You have got many areas with restrictions on them in terms of neighbourhood planning, areas of beauty, etc. In principle, in the right place, yes, but it has got to be in the right place.
"You can't have a pair of semi-detached [homes], one with a two-storey extension and the other without, it would look appalling and would not be in the best interests of the borough and residents."
The white paper's reforms also propose to extend Permitted Development in a variety of other ways. These include:
Enabling popular and replicable forms of development to be approved easily and quickly, in accordance with important design principles
Extending the scope of the newly consolidated Infrastructure Levy and removing exemptions from it to capture changes of use through Permitted Development rights, so that additional homes delivered through this route bring with them support for new infrastructure.
Planning For the Future
The Planning for the Future white paper follows Prime Minister Boris Johnson's pledge to Build, Build, Build in June, when he revealed that the government will introduce the most radical reforms of the planning permission system since the end of the Second World War.
To simplify the role of local planning authorities, a form of zone planning will be introduced which will classify land for either growth, renewal or protection. Land in growth areas will benefit from automatic permission, while land in urban renewal areas will be granted permission in principle.
(MORE: Planning News: Automatic Permission for New Homes Must Not Affect Quality, Experts Warn)
Mr Jenrick has proposed new measures throughout the year to transform the planning system, and these have now been put forward in the white paper. They include:
Local communities will be consulted from the very beginning of the planning process
All councils will have a local plan for housing - currently only 50% of local areas have such a plan
Homes will be built quicker, and local housing plans will be developed and agreed in 30 months - down from the current average of seven years
A new national charge for developers will be introduced called the Infrastructure Levy - replacing the existing Section 106 agreements and the Community Infrastructure Levy - to prevent delays
A fast-track planning system will be introduced for beautiful buildings
All new streets will have to be tree-lined.
Mr Jenrick said that this shake-up of the planning system is a once in a generation chance to build the homes that families need.
Brian Berry, chief executive of the Federation of Master Builders (FMB), welcomed the opportunity to speed up the planning process, but warned that the proposals must not compromise the quality of homes built.
"We need a simpler and more responsive planning system, but I am clear that this shouldn't compromise the quality of the homes that are built. We must also ensure local planning authorities are supported to respond to these changes, so that any shake-up doesn't lead to further short-term delays in applications," said Berry.
Tamara Hooper, policy manager at the Royal Institute of Chartered Surveyors (RICS), added: "The announcements set out by the Secretary of State are a big step in the right direction. The government has shown a recognition that identifying land within plans and then ensuring it can be easily built on is vital for quicker development.
"Tree-lined streets are a start, but we must build homes people want to live in that ensure a greener future for generations to come, rather than building houses to meet number targets."
Self Build Pledges
Notably, the self build industry is referenced several times in the white paper, with the government reiterating its intention to support self builders.
(MORE: Planning Reforms Could be Revolutionary For the Self Build Industry)
These proposals, which include allowing local planning authorities to identify sub-areas in their growth areas for self and custom build homes, have been praised by self build industry body the National Custom and Self Build Association (NaCSBA).
Andrew Baddeley-Chappell, NaCSBA's CEO, said: "NaCSBA warmly welcomes today's Planning Consultation Paper, the most ambitious planning reform since the foundation of the modern planning system in 1947 (when the Town and Country Planning Act was founded)."
Homebuilding & Renovating Newsletter
Get the latest news, expert advice and product inspiration straight to your inbox.
Thank you for signing up to Homebuilding. You will receive a verification email shortly.
There was a problem. Please refresh the page and try again.