One in Three Homes Might Need Electricity Upgrade for Heat Pumps to Work
By Jack Woodfield published
Providing three phase electricity to some homes will be one of the "biggest challenges" of rolling out heat pumps in the UK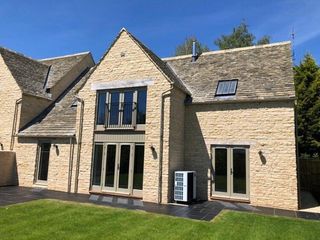 (Image credit: Mitsubishi)
One in three homes may need to upgrade their electricity in order for heat pump installations to be successful, a major power distribution company has warned.
Heat pumps are the government's seemingly preferred low-carbon heating system for homes. But Western Power Distribution (WPD), which manages the electricity network for the Midlands, South Wales and the South West, says that providing electrical power to homes will be one of the "biggest challenges" of rolling out air source heat pumps and ground source heat pumps, and "around a third" of homes could be affected.
How Much Could an Upgrade Cost?
Supply to millions of homes may need to be upgraded due to the increase in electricity demand that heat pumps would require to work efficiently, with the required supply depending on factors such as property size, how many people are living there and the existing and future demand from activities such as charging an electric car at home.
The majority of UK homes run off a single-phase supply with one fuse, but a three-phase supply will be needed by households with particularly large electricity needs.
Some homes have been charged £15,000 to upgrade to a three-phase supply, The Telegraph reports.
For most smaller homes which may require an update to allow a supply of 80 or 100 amps, this could cost hundreds of pounds.
Some upgrades will be simple, such as replacing the cutout, which connects the supply to the meter. But others, such as upgrading a cable, will be more disruptive. And homes on a "looped" supply can be harder to upgrade because they are connected to neighbouring properties.
Paul Jewell, system development manager at WPD, said: "If a cable needs upgrading it will involve digging to the front door and if a cable needs two homes we may even want to dig in both gardens."
What is Three Phase?
"Three-phase is, in simple terms, three different electricity supplies, or 'phases'," begins David Hilton, renewables expert for Homebuilding & Renovating, and director of Heat and Energy.
"Any single-phase equipment you have (that's anything that runs on 240 volts) will be connected to only one of those supplies. Potential load will be spread across the three phases by balancing appliances against one another so that there aren't too many connected to any one phase.
"For all this to work, you need to make sure that your electricity system is configured correctly and you specify the right products that are compatible," he says.
Costs Could be 'Socialised'
The energy regulator Ofgem advised network operators in December that offering electricity upgrades for free and 'socialising' costs (by spreading the cost out among bills) is "in the consumers' interests".
Many companies are planning to start socialising the costs of upgrades, but whether you'll need to pay for any upgrades depends on what work you need done, and who manages your local network.
Northern Powergrid, which covers North East England and Yorkshire, and Scottish and Southern Electricity Networks, which covers 3.7 million homes and businesses, will both soon be socialising costs.
Northern Powergrid charges £120 for a fuse upgrade with cable upgrade costs dependent on specific jobs but will socialise costs from April 2023. And Scottish and Southern Electricity Networks charges up to £200 for upgrades to the cutout and more for cable upgrades, but these will become free to individual applicants from April, with the cost spread among all bills.
Jack has worked in journalism for 11 years and is the News Editor for Homebuilding & Renovating, a role he has had since 2019. He strives to break the most relevant and beneficial stories for self builders, extenders and renovators, including the latest news on the construction materials shortage and hydrogen heating. In 2021 he appeared on BBC's The World at One to discuss the government's planning reforms.
He enjoys testing new tools and gadgets, and having bought his first home in 2013, he has renovated every room and recently finished a garden renovation.
Homebuilding & Renovating Newsletter
Get the latest news, reviews and product advice straight to your inbox.
Thank you for signing up to Homebuilding. You will receive a verification email shortly.
There was a problem. Please refresh the page and try again.