'Four year rule' means log cabin built without planning permission near Vernon Kay and Tess Daly's home 'may stay'
Owner of timber cabin built on greenbelt land without planning permission is given the green light to appeal against an enforcement order to demolish the home due to the 'four year' planning rule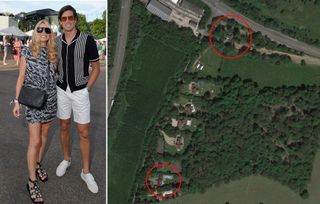 (Image credit: Getty)
A log cabin that was facing demolition may remain standing after the owner was given the green light to appeal a planning enforcement order in the High Court.
The timber bungalow, which is 300 yards away from the £1.2million home of celebrity TV couple Vernon Kay and Tess Daly, was built without planning permission nearly 10 years ago in Beaconsfield, Buckinghamshire. However, in February 2021, the owner Ian Caldwell was served an enforcement notice by Buckinghamshire Council ordering him to tear down the £80,000 building.
The timber tycoon was told by a High Court judge that his appeal against the enforcement order was "properly arguable" due to it having been built for a period of more than four years without prosecution.
Home built nearly 10 years ago without planning
Ian Caldwell, owner of timber merchants Timberstore, built the £80,000 wooden bungalow in 2014 on greenbelt land opposite the store for his site manager and family to live in.
But in 2021, Buckinghamshire Council ordered Mr Caldwell to "demolish or dismantle the building occupied as a dwelling house" citing a lack of planning permission, but Mr Caldwell appealed the decision to the planning inspectorate.
The appeal was rejected, so Mr Caldwell took his case to the High Court in London to seek permission to challenge the dismissal based on the cabin having been built nearly a decade ago and hadn't been challenged by the Council within the four year period.
What is the 'four year planning rule'?
VISIT THE HOMEBUILDING & RENOVATING SHOW
Need more advice or inspiration for your project? Get two free tickets to the Homebuilding & Renovating Show
The four-year planning rule is an exemption from enforcement action if the council has failed to take action against a breach of planning regulation within four years of the development taking place. This exemption does not apply in instances where the developer has used "deliberate concealment" to prevent enforcement action within the four year period.
The legislation, which you can read in full on the gov.uk website, says" development becomes immune from enforcement if no action is taken:
within 4 years of substantial completion for a breach of planning control consisting of operational development;
within 4 years for an unauthorised change of use to a single dwellinghouse;
within 10 years for any other breach of planning control (essentially other changes of use)"
The four-year planning rule is currently being phased out by the Government, as announced in the Queen's Speech in 2022, as part of new legislation in the Planning Bill: Levelling up and Regeneration. You can read more about this in our piece on the four-year rule being quietly scrapped as well as other planning reforms.
It is likely this will instead become a 10-year rule rather than a four-year rule. However, until the bill receives royal assent, the four-year rule will continue to be in force. You can see the bill's progress on the government website here.
Cabin only served enforcement action in 2021
Rachael Matthews, deputy cabinet member for town centre regeneration, told the Bucks Free Press: "After a cabin was built without proper planning permission, Buckinghamshire Council issued an enforcement notice on February 23, 2021.
"The notice was appealed by Mr Caldwell and went to a Public Inquiry in November 2022. The appeal was dismissed, with the enforcement notice being upheld.
"Only minor variations were made to the council's enforcement notice. The notice took effect on February 14, 2023 requiring compliance by February 14, 2024.
"We understand that Mr Caldwell has challenged the Planning Inspectorate's decision on his appeal through court proceedings. At this stage, the council is not involved, but will monitor the outcome and consider how it might affect the appeal decision, as well as any implications on the requirement to comply with the notice."
It has been suggested that Vernon Kay was among those that complained about the build, however the council would not confirm this when asked by Homebuilding & Renovating.
"Any complaints sent to our planning enforcement team about this planning matter would be confidential," a spokesman said.
Do you need planning permission for log cabins?
Broadly, yes. UK Government rules broadly state that planning permission is likely needed when you build something new, make a major change to your building, such as building an extension, or change the use of your building.
If a project needs planning permission and the work is undertaken without it, the owner can be served an enforcement notice ordering them to undo all the changes.
A summer house or similar that is not accommodation may fall under permitted development rules, which you can read more about in our guide on planning permission for a summer house.
Get the Homebuilding & Renovating Newsletter
Bring your dream home to life with expert advice, how-to guides and design inspiration, direct to your inbox.
Sam is based in Coventry and has been a news reporter for nearly 20 years. His work has featured in the Mirror, The Sun, MailOnline, the Independent, and news outlets throughout the world. As a copywriter, he has written for clients as diverse as Saint-Gobain, Michelin, Halfords Autocentre, Great British Heating, and Irwin Industrial Tools. During the pandemic, he converted a van into a mini-camper and is currently planning to convert his shed into an office and Star Wars shrine.